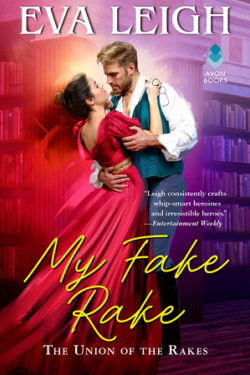 Author

Eva Leigh

Release Date

November 26, 2019

Publisher

Avon Books

ISBN/ASIN

9780062932402/B07P2WLV63

Our Rating

Reviewed by

Michele Rioli
Our Review
Love can blunder about a bit and bloom under false pretenses, such as in MY FAKE RAKE, which is Eva Leigh's debut novel in The Union Of The Rakes series. It stars a gorgeous, gifted lady named Grace Wyatt. She loves the study of reptiles. She bungled her chances in her coming out season to catch a husband with her talk of scientific pursuits. She is perceived by society as an odd duck. There is one man though who renders her tongue-tied, when she is in his presence, since he is exceptionally handsome. He has just returned from his research travels abroad. Only, he doesn't realize Grace is a good catch. Grace implores her best friend Sebastian Holloway to help her land the man of her dreams by becoming her false wooer. Only, Sebastian is not hip to the ways of rogues. So, Grace transforms Sebastian into a dazzling, raffish male who knows how to openly flirt with a woman. Will her plan work?
Sebastian is a shy researcher and agrees to let Grace change him into a refined Lord with rakish airs. Secretly, he enjoys spending time with Grace, since he is in love with the intelligent, witty woman. Only, Grace's plan to win the affections of another man, using Sebastian as bait, goes seriously awry. She discovers underneath that modest, scholarly demeanor that Sebastian is an extremely handsome guy. Heaven help her! This is all wrong or is it? She is falling hard for her best friend! What will Grace do? Plus, does Sebastian confess that he is in love with her?
MY FAKE RAKE serves up a sparkling, sassy love story that will leave you breathless! Grace and Sebastian are best friends and share similar tastes in the study of the sciences. What they don't realize is that there is a sizzling attraction simmering below the surface between them. After spending so much alone time with Sebastian as he undergoes secret lessons to become a rogue, Grace develops amorous feelings towards him. Who knew Sebastian was so… manly, muscular and macho? Be still my beating heart, for he steals Grace's breath away! Sebastian is scared he might lose Grace to another man. He grapples with his feelings and agonizes over telling her, because he doesn't want to destroy their friendship. I laughed, cried and speed read this sensational feel good story! Ms. Leigh is a master at writing about love and all its connotations. MY FAKE RAKE is a tantalizing romance that's equally funny, smart and full of surprises!