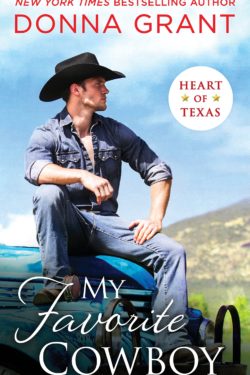 Author

Donna Grant

Release Date

February 26, 2019

Publisher

St. Martin's Press

ISBN/ASIN

9781250169020

Our Rating

Reviewed by

Raonaid
Our Review
Caleb Harper is a former Green Beret turned horse rancher. Where women are concerned, he is the 'love them and leave them' type. Caleb's intuition leads him to look into the strange malady affecting his friend's horses. Despite the dire situation, he cannot help but be attracted to the pretty veterinarian tending them. When someone sabotages Audrey's good name, Caleb comes to her rescue. Can Caleb find the ones responsible for poisoning the horses? Will he be able trust Audrey with his vulnerable heart?
Audrey Martinez is a well-known and sought-after equine veterinarian. As a favor, she treats a family friend's sick horses. Audrey meets the sexy Harper brothers, who offer to investigate the horses' mysterious illness. It soon becomes evident that someone is trying to besmirch her hard-earned reputation. Audrey has no other choice but to enlist Caleb's help in ferreting out the culprit. Can Audrey give up her workaholic ways for Caleb? Or will their individual issues stand in the way of their budding relationship?
I fondly remember Caleb as the enthusiastic boy in book one, THE CHRISTMAS COWBOY HERO. Strangely, it feels like I watched him grow from that generous boy into a fine, young man. I like how each Harper suffers from their abandonment issues differently. Caleb is aware of his handicap. I admire how he ignores his instincts of pushing Audrey away, despite his fear of engaging his heart. But what I adore the most about Caleb is his sense of loyalty. There is little he would not do to help or protect the people he sees as family and friends.
Audrey is the perfect fit for Caleb. The two have much in common despite their different backgrounds. Both have difficulties committing themselves to relationships due to abandonment issues. Audrey buries her handicap in her work. I adore Audrey's dedication to her equine patients. She works tirelessly in giving them the care they need, even to the point of sacrificing sleep and food. Audrey wants a love like her parents. She refuses to accept second-best.
MY FAVORITE COWBOY is book three in Donna Grant's cowboy-themed romantic suspense series, HEART OF TEXAS. I love that Abby, the heroine from THE CHRISTMAS COWBOY HERO, plays a more active role in this story. I missed that from the second book. Also, I like how the Harpers finally find closure with their mother's abandonment.
MY FAVORITE COWBOY is a suspenseful tale of two wounded souls overcoming their internal issues to love. I cannot wait for more in this series. I want Jace and Cooper to find their happily-ever-after.