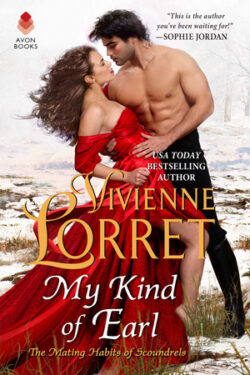 Author

Vivienne Lorret

Release Date

October 20, 2020

Publisher

Avon

ISBN/ASIN

978-0-06-297660-4

Our Rating

Reviewed by

Dianamcc
Our Review
MY KIND OF EARL by Vivienne Lorret is the second book in the Mating Habits of Scoundrels series. I thoroughly enjoyed this story about blue-blood Jane Pickerington and blue-collar Raven.
Jane is writing a book on the difference between a scoundrel and a gentleman. Her research takes her to a brothel, where she hopes to observe scoundrels in their natural habitat. She breaks in with the help of her cousin, carrying with her protection devices she has invented.
Raven, not being upper class, would not be allowed in the gaming and brothel enterprise except he recruits  wealthy customers for the owner. He is caught up in the break-in, but Jane deploys one of her inventions and helps him escape.
Raven likes her quirky nature, a stark contrast to his heartbreaking past, which causes him not to believe in love. Jane cares for her many young siblings and is generally ignored by her parents. Jane's generosity with her siblings warms Raven's heart, and he begins to fall in love. But he knows he doesn't belong in her world, that of the upper class. 
There was a good balance between their building relationship, flirting and chemistry, and the mystery of Raven's mark and his family history. The secondary characters were great.
MY KIND OF EARL is well written and enjoyable with a love story, mystery and intrigue.