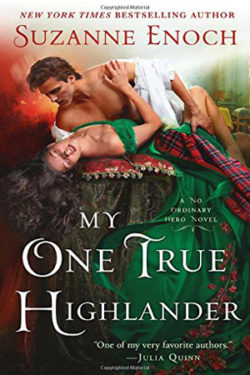 Author

Suzanne Enoch

Release Date

April 4, 2017

Publisher

St. Martins

ISBN/ASIN

1250095433

Our Rating

Reviewed by

Raonaid
Our Review
Viscount Graeme Maxton is clan Maxwell's territory chieftain. He abhors the shoddy way his over laird, the Duke of Duncraigh, treats his clan. Graeme steps in to save his brothers' necks when they react to the Duke's threats by kidnapping the Sassenach Duke of Lattimer's sister. He refuses to hand Lady Marjorie Forrester over to Duncraigh, instead Graeme intends to marry her to solve his money trouble and protect them all from the aged duke's wrath. The lady in question, however, thwarts his plans by pretending to be his brothers' governess around the duke's henchmen. Can Graeme keep Marjorie's true identity from reaching Dunncraigh and Lattimer? Will Graeme be able to let go of his deep-seated reservations about falling in love?
Lady Marjorie "Ree" Forrester is the new Duke of Lattimer's younger sister. She strives on gaining the ton's notice and acceptance. The weight of society's disregard sends Marjorie to Scotland to pay her brother a surprise visit. She tries to help an earnest boy, only to find herself a reluctant captive. Marjorie refuses to play along with her abductor's commands. However, against her will, she soon discovers that Graeme and his rag-tag people have accepted her easier than London's society ever have. Will Marjorie realize the true prize she has found in Scotland?
I love Graeme's name. I wonder about its correct pronunciation because I find Gaelic names beautiful and fascinating. He is such a selfless and extraordinary man, who is not afraid to dirty his hands alongside his tenants. I admire how Graeme shoulders not only the responsibility of being a territory chieftain but also the raising of his three younger brothers. I adore the sacrifices he willingly makes to protect them from harm. But what I like the most about Graeme is his refusal to dance to his over laird's whims. Instead, he'd rather form his own opinions and judgments based on the person's merits than hearsay.
Lady Marjorie is so easy to identify with. She tries so hard to fit in with her new peers, yet Marjorie refuses to lower herself by buying the ton's acceptance. Even though her circumstances have changed, she remains the same person inside without money and power warping or corrupting her. I love how Marjorie discovers who she truly is while in Scotland and the Maxton household. Her humble beginnings help Marjorie understand the hardships Graeme faces on a daily basis. I admire her refusal to concede to Graeme's plan, but rather, Marjorie prefers to marry for love than to save herself from ruin.
MY ONE TRUE HIGHLANDER is book two in Suzanne Enoch's historical romance series, NO ORDINARY HERO. I like how the conflict between Lattimer and Dunncraigh continues in book two but also includes new, unwilling pawns in the conflict. It is necessary to read book one, NO ORDINARY HERO, to better understand the events happening in the story.
MY ONE TRUE HIGHLANDER is a heart-warming story of a lonely soul finding the place where she belongs, in the brawny arms of a destitute highlander who cherishes her. I could not put this book down. Susanne Enoch reminded me how much I miss and enjoy a good Scottish Highlander book.