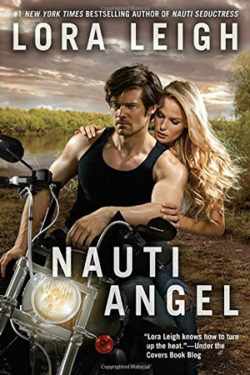 Author

Lora Leigh

Release Date

November 7, 2017

Publisher

Berkley

ISBN/ASIN

B01N25JQ3D

Our Rating

Reviewed by

BPoston
Our Review
All the books in the Nauti Series are great, and this newest story is just as awesome. Each book can be read as a stand-alone, but characters spill over from the previous stories, which makes reading NAUTI ANGEL so much more enjoyable.  
Angel Calloway was found as a very young child injured and abandoned by a family of mercenaries. The only thing she knows is that her mother abandoned her, and she was put in a dangerous situation that almost took her life and resulted in the death of her sister, which has left Angel heartbroken. She discovers later on that her mother married and had another daughter, Bliss Mackay, who is now in danger. Angel will do anything to keep Bliss safe, even put up with the mother she has hated all her life.
Reece "Duke" Duquaine has worked with Angel on many past mission. He thinks she's smart and hot and more than a little bit lethal. She takes his breath away. He's also curious about her. Why is she so interested in Bliss Mackay? While researching her background, he discovers the connection she has to Bliss. The problem is, he's related to the Mckay family, and his loyalty to his family is unquestionable. His attraction to Angel has him in an internal fight to keep his family safe, yet he needs to help the woman he's falling in love with understand that her mother is not the villain she believes her to be.
I loved this story. There is drama, suspense, and of course, amazing passion that Lora Leigh is known for. Reading this will not be a disappointment. 
A Recommended Read