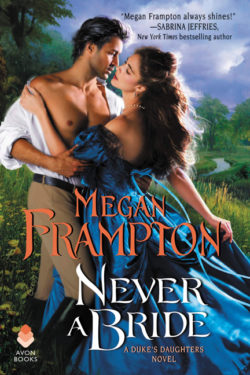 Author

Megan Frampton

Release Date

April 30, 2019

Publisher

Avon

ISBN/ASIN

978-0-06-286740-7

Our Rating

Reviewed by

Diana Mcc
Our Review
NEVER A BRIDE by Megan Frampton is book four in A Duke's Daughters Series.
Griffith Davies has spent the majority of his life serving in Her Majesty's Navy. He loves his life on the open sea. When his cousin, the current Duke of Northam, falls fatality ill, Griffith gives up the sea to help him. Out of respect and honor to his cousin and friend, he agrees to learn the responsibilities that will go with the Dukedom when his cousin dies and Griffin inherits. His cousin informs Griffith that he needs to attend the balls and shop around for a wife.
Griffith does not want to marry an inexperienced, shy, young miss. He makes a bargain with Lady Della Howlett, who comes to him for help in finding her friend's husband. (The friend's husband had sailed on a ship captained by Griffith.)
If Lady Della will pretend to be his betrothed, he will help her. Lady Della has a tarnished reputation, having run off with her dance instructor only to come back to London pregnant and single. Disowned by her father, she sells her jewels and opens a school with her friend.
Lady Della is by no means a "young thing." Her daughter is about 8 years old. The sparks between Lady Della and Griffith heat up the pages. Neither claims to want to marry; they are each helping the other out.
The only problem I had with this book is that Lady Della lusts after Griffith from the very beginning of the book but doesn't want to consider marriage. She has a daughter out of wedlock and admits her life is somewhat ruined by that. Yet she throws caution to the wind in pursuing Griffith for his body, and just for a good romp In bed. In the end they do fall in love and Griffith loves her daughter too. So, the book does have a happily ever after. A good read.
I received this book from Romance Junkies Reviews for my honest review.