Never Enough (Meet Me in Montana)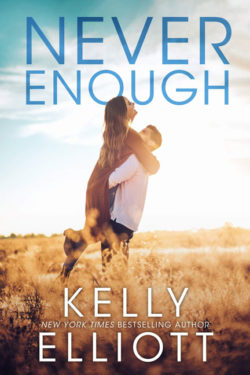 Author

Kelly Elliott

Release Date

December 10, 2019

Publisher

Montlake Romance

ISBN/ASIN

9781542018791

Our Rating

Reviewed by

Jo
Our Review
NEVER ENOUGH is the first book in the MEET ME IN MONTANA series, and I can't wait to read more. Southerners Lincoln and her best friend, Kaylee, arrive in Montana for Lincoln to take a new job. Their lives are turned upside-down, especially when they meet the Shaw Brothers, hot cowboys that have them turning inside out.
Lincoln had to leave home and a well-connected father who seemed to do everything for her. She decided she needs to stand on her own two feet and prove to herself that she's good at what she does.
Brock, a widower with a five-year old son and a lot of guilt,is a professional bull rider and world champion. He sells her his house on a piece of land that used to be part of his family's ranch. When not traveling, he lives in another house he built on the ranch with his son, Blayze. However, Blayze normally lives with Brock's parents and spends time with Brock's brothers. Blayze is a cute kid, wise beyond his years, and adds another dimension to the story.
There's a lot of anger in Brock, and much of the time it's directed at Lincoln. Yet she's a soothing balm for him, and they have electricity whenever they are together. Lincoln fits in with his family and is wonderful with his son. The family dynamics definitely add heart to the romance.
There are wonderful descriptions of bull-riding, in which we are totally immersed. NEVER ENOUGH has plenty of family and friends, drama, and a stellar romance. I look forward to reading more books in this series!