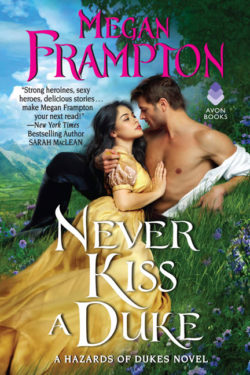 Author

Megan Frampton

Release Date

January 28, 2020

Publisher

Avon

ISBN/ASIN

9780062867421

Our Rating

Reviewed by

Amber M.
Our Review
Sebastian, the Duke of Hasford, has just had his world turned upside-down. He went from an affluent life to one of the common working class after it was discovered his lineage is not what he was lead to believe. He is used to the lifestyle afforded to him by his title and now he's lost, unknowing what to do or where to go. He must figure out what he wants in life now, and when he wanders into Miss Ivy's gambling house, he finds not only the proprietor intriguing but Miss Ivy's business plan extraordinary. 
Miss Ivy struggled to get her gambling house up, running, and successful. When a strikingly handsome man pays the establishment a visit and almost sends her guests running for the door, she does what every sane business owner does—sighs in relief when he finally leaves. After he redeems himself, Ivy finds herself bringing him into her fold. Sebastian de Silva not only brings good ideas to the table for increasing business, including more affluent patrons, he stirs something inside her she never thought she wanted—desire, passion, and wicked thoughts. 
NEVER KISS A DUKE is a fantastically written historical romance novel. Ivy is a very strong, independent heroine, and deservedly so. She gave up a lot in life and worked hard to establish a new gambling house in London, where other larger, more popular, and widely known establishments already exist. Her unique business plan provides an outlet for all persons, despite their status or gender, to come and be entertained.
Sebastian is a wonderful hero. He goes from being a duke to being a mister in the matter of unexpected seconds. Unsure of what do to next, Sebastian knows he wants to figure it out on his own without the charity of his cousin, the new Duke of Hasford. Walking into Miss Ivy's sets Sebastian on a life course he never expects, wants, or knows how to navigate, but he's excited to see how he can evolve his situation. He never expected to fall for Ivy, nor did Ivy expect to fall for Sebastian.
I enjoyed NEVER KISS A DUKE very much. I read the book in pretty much one day. The story drew me in and kept me engaged with sass, a bit of humor, likable characters, and a wonderful romance. I look forward to reading book two in the Hazards of Dukes series.
Recommended Read