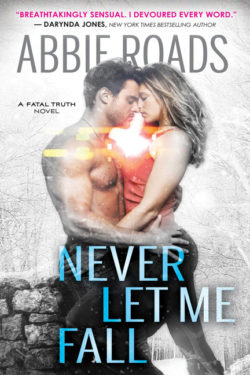 Author

Abbie Roads

Release Date

November 6, 2018

Publisher

Sourcebooks

ISBN/ASIN

9781492655879

Our Rating

Reviewed by

SJ
Our Review
I've been a fan of Abbie Roads since her first release, RACE THE DARKNESS. Book two, HUNT THE DAWN, introduces Thomas, the hero of NEVER LET ME FALL, book three in the Fatal Dreams series. Though the third in the series, NEVER LET ME FALL can easily be read as a stand-alone.
Roads writes with keen attention to detail, and her characters come across as authentic and deeply damaged. Unlike the previous books in this series, however, I had a tough time getting past the story's darkness. 
Thomas can't see color, but he can see the soul of people, which makes him an excellent criminal investigator. Then he meets Helena, a woman who was imprisoned for a crime she didn't commit. Helena and Thomas have instant chemistry. And that closeness puts them both at the attention of a very, very bad man.
The Fatal Dreams books have a paranormal bent and deal with characters on the edge, going through and eventually recovering from trauma, both emotional and physical. I knew and appreciated that going in. But with this story, the romance seemed rushed, the killer just so evil and the obstacles to overcome so harsh I had a tough time finishing the book.
If you like dark, psychological romances and fiction dealing with unhinged killers, this is one not to miss. I gave it four stars instead of 3.5 only because of the author's thorough grasp of psychology and character motivation. The story is creative, but the heavy material took away some of my enjoyment.