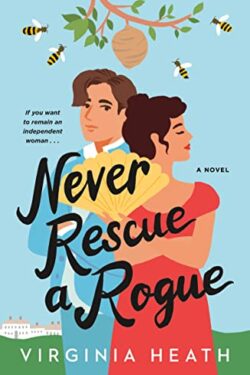 Author

Virginia Heath

Release Date

November 8, 2022

Publisher

St. Martin's Griffin

ISBN/ASIN

9781250787781/‎‎B09NTK6GHF

Our Rating

Reviewed by

Michele Rioli
Our Review
NEVER RESCUE A ROGUE is an adventurous, amusing, angst-filled romance starring Giles Sinclair, an extremely handsome man, and Diana Merriwell, a gorgeous independent woman. Neither like each other and squabble constantly when they are together. Their families think it is all an act. That they secretly are attracted to one another. Well, we shall see about that…
Diana struggles with being a member of society, by extension, since her older sister married Giles' best friend. Especially, since Diana writes investigative articles for the tribune. She tells her family she's just a copy editor. Giles gleans the truth about her profession, but doesn't know the half of what she does and how much danger she puts herself into.
Giles also has a secret. If it was ever discovered, he could lose everything, so he keeps ladies at arm's length. His father suddenly dies and Giles is now a duke. His crusty father spared few details about his birth. If news of his true heritage leaks out, that will be the end. Determined Diana is antsy to uncover the truth. They soon rely on each other, working together to unravel his ancestry. During their time together, love burns deep. This is not good! The dukedom isn't the only thing in trouble. Now there's an attraction burning so hot, that Giles and Diana can't ignore the truth.
Come on a roller-coaster ride of humorous mishaps, bickering, bantering, and secretive, suspenseful, twisty disclosures in Ms. Heath's new novel, NEVER RESCUE A ROGUE. This book is so fun! I loved the trouble Giles and Diana get into, even though they are sworn enemies. They try to tell themselves, they aren't attracted, but obviously they are. This story takes time, as the whole plot isn't revealed right away. This is a feel-good swoony romance, that I fell in love with, especially all the unique characters. Many from the first book are in here as well. Ms. Heath is a sassy, classy writer! NEVER RESCUE A ROGUE is top notch! Kudos!