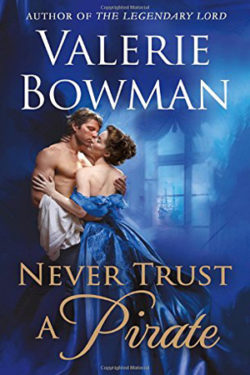 Author

Valerie Bowman

Release Date

May 1, 2017

Publisher

St. Martin's Press

ISBN/ASIN

978-1-250-12169-1

Our Rating

Reviewed by

Vanessa E.
Our Review
When you've got secret identities, spies, swashbuckling–and I'm just talking about the heroine–you know you are about to embark on an amazing adventure! NEVER TRUST A PIRATE will take you on fast-paced journey, through the slums and salons of London and beyond.
Self-proclaimed black sheep of the family, Cade Cavendish, can't seem to pigeon-hole the alluring new French lady's maid to his sister-in-law, Miss Danielle Lacrosse. Every time he thinks he's shocked her, she shocks him. The intrigue of the mystery they are both trying to solve keeps our destined twosome in each other's constant proximity, and boy do sparks fly!
You may NEVER TRUST A PIRATE, but trust me when I say read this book. I couldn't put it down!
RECOMMENDED READ!!!