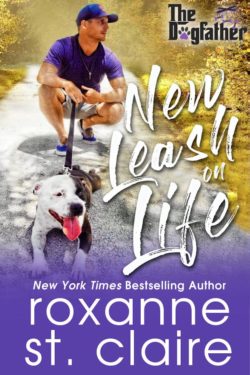 Author

Roxanne St. Claire

Release Date

May 22, 2017

Publisher

South Street Publishing

ISBN/ASIN

B071HNVBJF

Our Rating

Reviewed by

Raonaid
Our Review
Former attorney Shane Kilcannon trains therapy dogs at his family-owned canine training and rescue facility. He is fondly known around his hometown as a dog whisperer. Shane jumps at the chance to take his father's place on the Tourism Advisory Committee just to see a certain woman again. Chloe Somerset's distaste for disorder and dirt challenges him to break through her aversions. He convinces Chloe to temporarily house a Staffordshire Terrier to better promote her idea for the town. Shane hopes to change the public's misconceptions and prejudice against the Pit Bull breed through Chloe and Daisy. Will Shane's ploy work? Or will it backfire in his face?
Chloe Somerset is a successful tourism consultant. She insists that everything in her life must be neat, orderly, and most importantly, clean. At her aunt's behest, Chloe comes to Bitter Bark, North Carolina, to help boost the small town's tourism. An encounter with a sexy yet dirty stranger at the local bar sparks the perfect idea for Bitter Bark. To convince the town to accept her suggestions, Chloe agrees to house-sit a dog named Daisy. Shane Killcannon makes Chloe want to shed her germaphobic tendencies. Will Daisy and Shane help Chloe overcome her mysophobia? Will Chloe succeed in winning over Bitter Bark?
Shane is such a charming and flirtatious fellow. His laid back and fun-loving nature shields the festering anguish he feels over his mother's passing. I like how understanding and patient Shane is once he learns the reasons behind Chloe's phobia. Instead of mocking her, Shane uses his love of challenges and dislike of losing to help her break past her germaphobia issues. However, what I adore the most about him is his unwavering defense of the Pit Bull breed. Shane strives to educate the public on the breed and change their set preconceptions on them.
Chloe is such a great role model for anyone debilitated by phobias. She is aware of her handicaps and Chloe proves with the correct mindset and help, it is possible to beat those fears. I admire her readiness to push through her phobic obstacles instead of allowing them to mandate her life. I like Chloe's willingness to use her skill-set to aid her aunt in accomplishing her late husband's dream for Bitter Bark. But what I like the most about Chloe is how she involuntarily helped Shane let go of his bottled anguish over his mother's passing and move forward.
NEW LEASH ON LIFE is book two in Roxanne St. Claire's contemporary series, THE DOGFATHER. I love how Daisy, the rescue dog, is beneficial to Shane and Chloe growing together. I believe even dogs deserve a happy ending also.
NEW LEASH ON LIFE is a sweet and endearing story of two people overcoming their handicaps to find love and happiness with each other. I enjoyed reading this charming book while snuggled up with my dogs. I cannot wait to learn which dog breed will lead the next Killcannon to his or her happily ever after.