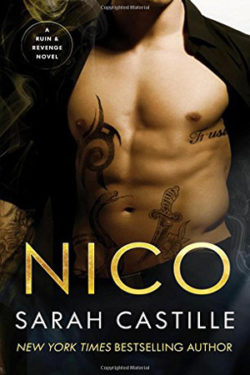 Author

Sarah Castille

Release Date

December 6, 2016

Publisher

St. Martin's

ISBN/ASIN

9781250104038

Our Rating

Reviewed by

Chrissy Dionne
Our Review
Mia Cordano has made it her goal to escape the mob connections her father's role as a Mafia boss entails. She's endured so much pain, emotional and physical, because of the Mafia and certainly isn't going to pretend to be some submissive little piece of property for some man to beat on whenever the mood strikes him.  She's creates a niche for herself as a computer hacker and has her own business testing the systems at Las Vegas casinos and other businesses.  It's because of her business that she finds herself engaging in a battle of wills and seduction with Nico Toscani, a rival of her father's. 
Nico isn't the kind of man you want to cross. He's ruthless in his own way as anyone with Mafia connections can be, however, Nico has his own reasons for despising Mia's father and carries a vendetta to make the man suffer for murdering his father ten years ago.  When Mia's caught in his casino he's furious that a Cordano was hired at all to have anything to do with his business, but he's also intrigued by her since it's not typical for Mafia women to have roles outside caring for the men in their families.
Mia breaks all the rules when it comes to Mafia traditions. Everything about her screams 'independence' and nothing her father can do seems to sway her from her goals.  Nico's the only Mafia linked temptation she has but she's a strong woman, she can resist him, right?  Unfortunately her father needs an alliance and intends to marry her off into the Toscani family, despite her objections… and if things weren't complicated enough they're about take on a life all their own as Mia and Nico defy all the Mafia rules and expectations in a bid to be together.
Forget dating, flowers, candy, and gentle loving, Sarah Castille writes raw, passionate, and dangerous romances that defy everything you'd typically expect to find in a romance. With the first title in her BURN AND REVENGE series, readers are transported into an alternate reality where the normal rules don't apply.  Nico and Mia grew up amongst the mob syndicate so they're well aware of the dangers they face on a day to day basis.  Betrayal or disobedience can earn you a pair of cement shoes or a Sicilian necktie (which I'd never heard of and am quite horrified by), but Mia and Nico seem to thumb their noses at the 'rules' and make their own which is extremely intense and captivating.  The passion between them is off the charts which makes the scenes between them a lot of fun since they come from rival families (think Romeo and Juliet with a Mob twist … without that whole ridiculous suicide scene, of course).  
I genuinely loved Nico and Mia and really enjoyed getting to know them but I also fell in love with a couple other characters I'm really hoping Ms. Castille will allow us to revisit at some point – Big Joe and Mia's little sister, Kat. (pretty please!)  Of course, Luca and Frankie are characters I want to revisit as well but they're stories are already in the works so we just have to be patient and wait for release day – which seems so far away.
RUIN AND REVENGE series:
NICO
LUCA (scheduled for release June 27, 2017
FRANKIE (release date unknown)