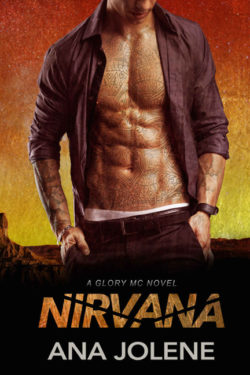 Author

Ana Jolene

Release Date

July 24, 2017

Publisher

Amazon Digital Services LLC

ISBN/ASIN

B0747SGZB1

Our Rating

Reviewed by

BPoston
Our Review
While NIRVANA is a stand-alone book in the Glory MC series, I recommend reading GLORY and ORIGIN (both of which I also had the pleasure to review) because the characters in this book are first introduced in these two books.
Tansy has lived a life of hell. She was traded by her father in payment of a debt and later traded again to a ruthless motorcycle gang. She was raped and tortured and left for dead until rescued by the Glory MC. She believes she is damaged inside and out and is afraid to trust anyone.
Kit only wants to keep Tansy safe. He's a gruff motorcycle member, but he adores her and will do whatever is necessary to ensure she never suffers hardship again. When Tansy's life is threatened, Kit takes her to his home so he can keep watch over her. He knows she's afraid of him but hopes that over time he can win her trust.
Kit and Tansy take a journey that will require strength, honesty, trust, and faith. This was a wonderful romance with two very compelling characters. The world they live in is hard and cruel, but together, they can overcome any obstacles that get in their way.
A great read.