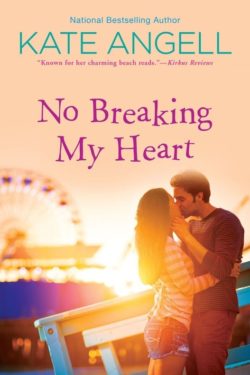 Author

Kate Angell

Release Date

July 26, 2016

Publisher

Kensington

ISBN/ASIN

9781496703668

Our Rating

Reviewed by

Diana S
Our Review
NO BREAKING MY HEART is the fifth novel in Kate Angell's BAREFOOT WILLIAM series.
Halo Todd is a professional baseball player who doesn't like failure and can never turn down a challenge. When Halo runs into a woman dressed like a chicken and imploring him to be her partner on a game show, he just can't say no. Dressed in a rooster costume that is too small, Halo tries to help her win on the game show. After they are eliminated she just drives off and leaves him but he can't give her up just yet.
Alyn Jayne thinks she is being stalked when Halo shows up at her mother's house after she left him. Alyn's brother Danny thinks Halo is there to tell him he won the sweepstakes to go to summer camp with his favorite ball team, Richmond Rogues. Seeing as how Halo hasn't picked a winner from his letters he received, Halo figures this will be a good way to get to know Alyn. Since Danny is eight, he needs a chaperone to go with him to Barefoot William, Florida, with the team. Alyn has a disabled pug named Quigley who she can't leave alone so decides her mother should go with her brother to Florida. Halo takes all three of them with the dog to summer camp.
Meeting all the team and their contest winners brings out all the funny characteristics of the people in the book. Halo finds himself wanting to be with Alyn all the time instead of going to the bars to party and pick up chicks with his teammates. His reputation makes it hard for anyone to take him seriously. Making a business arrangement with Alyn to be his girlfriend for ten months in return for him renting a space for her antiques business, takes things to a whole different level.
New-to-me author Kate Angell's writing style made me laugh and cry with her characters and their animals. Her knowledge of baseball and the eccentricities of the players and their fans keep the story moving along.