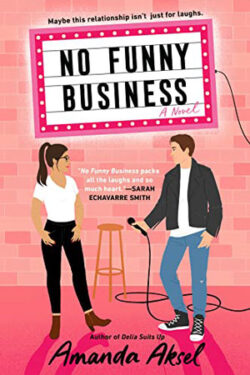 Author

Amanda Aksel

Release Date

July 12, 2022

Publisher

Penguin

ISBN/ASIN

B09JBD2GR6

Our Rating

Reviewed by

Fiona
Our Review
NO FUNNY BUSINESS started off slowly but gradually captured my interest. I wasn't sure I cared about the characters until I realized I had to know what happens to them. Chock-full of pop culture references, classic rock songs, vivid descriptions of Olivia's favorite foods (burgers and fries!), and the angst that can accompany trying to find one's place in a world that discourages choosing a life "off the beaten path," this book was an original read.
Olivia Vincent is determined to be a comedy superstar—someday. She works hard at her day job as a lawyer, then spends her nights and weekends appearing at every comedy club her agent can book her into. One night she blows off a client-dinner to open for a comic who is slightly more seasoned than her. She's surprised at how attractive he is. But her agent warns her there should be "no funny business" between them when her agent books them both a chance to do a two-week tour from New York to LA. While on tour, they can try out for a famous late-night TV comedy show. Luckily(?) Olivia can do this, because she got fired from her job!
Nick Leto informs her that she's not allowed to drive his Jeep and can only choose one song per hour, but he will allow her to veto one per hour also. He's delighted to learn she calls herself the "queen of burgers," and they set off on their adventure after he tells her that being on the road requires "being prepared for anything." They will both remember those words a lot, as their misadventures make Olivia wonder if she's really got what it takes to make it in the big-time. And if Nick returns her growing feelings.