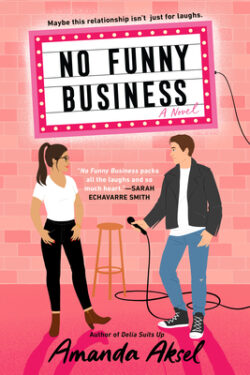 Author

Amanda Aksel

Release Date

July 12, 2022

Publisher

Berkley

ISBN/ASIN

9780593201633/‎B09JBD2GR6

Our Rating

Reviewed by

Michele Rioli
Our Review
NO FUNNY BUSINESS is a slap happy romantic comedy starring two struggling comedians who set out on a road tour across country while finding their happy place in life without getting involved with each other. Tell that to Olivia Vincent, a beautiful, aspiring comedian with a law degree who is trying to be content with her life, while working at a law firm. When she gets an opportunity to open for comedian Nick Leto, she swoons over him. Oh boy! Not good, since she wants to prove to herself and her dad that she can follow her dreams and be successful. Then why is it so hard to be herself around Nick?
Olivia is let go from the law firm when she tries juggling work and comedy jobs to no avail. Nick sees determination in Olivia. Her agent offers her a touring gig with him for a couple weeks across country. Plus, the caveat is her agent landed her an audition with Anderson Vanderson, from the Late Night Show, in L.A. Olivia is ecstatic! Her agent enforces a hands-off rule with Nick. Olivia is under Nick's tutelage learning the craft of stand-up comedy. Only as the miles tick by, rock songs wail from the radio in the car, Olivia and Nick bond over classic tv shows, burgers, corny jokes, seedy hotel rooms, and more. Attraction sparks between them regardless of the "no handsy" rule. Will Olivia and Nick chase their dreams against all odds?
I loved this new story from Ms. Aksel that follows two comedians who are on a path to self-fulfillment. NO FUNNY BUSINESS is crazy fun with a little fluffy romance on the side. All the references to Seinfeld and pop culture made for a cackling good time! I loved Nick and Olivia's road trip with their singing along to songs on the way. It was so darn funny! I wanted to go along with them! The author wonderfully told a story about healing from verbal abuse and chasing your dreams. There is a little romance as well, as Nick and Olivia spend time building each other's confidence up, getting closer and closer, then, oops, hands go everywhere! Spice is the secret to life baby! NO FUNNY BUSINESS is definitely a hootin' good time!