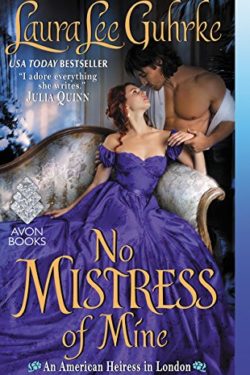 Author

Laura Lee Guhrke

Release Date

August 30, 2016

Publisher

Avon

ISBN/ASIN

0062334670

Our Rating

Reviewed by

Dottie
Our Review
Denys, a viscount and the son of an earl, had been a rebellious adolescent and a rakish, irresponsible young man. At twenty-four, during a trip to Paris, he met Lola Valentine and promptly lost his heart to her. Denys even leased a house for her in London. She had later forsaken him for a career in New York and Henry Latham. After she left, Denys managed to get his life in order, putting the stupid, careless mistakes of his youth behind him.
While investing in a brewery with his friend, Denys realized that he thrives on business. His mature behavior gained his father's trust to the point that the earl handed Denys control of the family holdings, including The Imperial, a theatre his father partnered in with Henry Latham. Denys is left with sole control over the Imperial after Henry leaves town. Denys turns the Imperial into London's finest producer of Shakespearean plays.
When Henry dies, Lola inherits his shares and a bequest leaves Denys to deal with her. Now Lola is back in London, eager to take on her partnership duties. Though Denys cannot deny there is still some attraction between them, the last thing he wants is to be in business with Lola in anything. However, he is not about to give up on the theatre he built up, so he prefers to buy her out, but she is having none of it.
Lola can see how completely Denys has changed in the six years she has been gone. She knows she is responsible for the changes and that her leaving hurt him badly. Although Denys believes that Henry had been her lover, in reality, he was more like a father figure to her, as well as a mentor. Lola was shocked that Henry left her his shares in the Imperial, as well as a great deal of money. She made quite a bit of money for herself and Henry in her one-woman show in New York. Somehow, Lola has to get Denys on her side, persuade him to teach her all there is to learn about theater management and get him to work with her instead of against her.
When Denys proposed prior to Lola leaving for New York, she knew that society would not accept such a marriage. Her career as a cabaret dancer as well as some aspects of her past was just too much to overcome and though Lola loved him to distraction, she could not bear to hurt him that way. So she accepted Henry's offer. Now that they are working together again, she finds their passion for each other as hot as ever. Can they conquer the passion and be just business partners, or will it destroy them this time?
An emotion-packed tale, NO MISTRESS OF MINE, the fourth book in New York Times bestselling author Laura Lee Guhrke's AMERICAN HEIRESS IN LONDON series, is a witty, sensual historical romance. I enjoyed this tale of an aristocrat who puts his reputation on the line, defying scandal, to marry the woman he loves, a woman who is considered disreputable. The attraction between them is undeniable, as is their love for each other. Their road back to each other is a rough one, fraught with misunderstandings and interference. Denys will have to defy his father and though it would be easier for Lola to just walk away, she will have to hang in there if they are ever to have a life together.
Ms. Guhrke creates believable characters and intriguing plots, transporting readers to another place and time. This novel, which can be read as a standalone, is sure to be coveted by fans of historical romance. Pick up a copy of NO MISTRESS OF MINE today and immerse yourself in the delightful world of Laura Lee Guhrke. If you enjoy this novel, you may want to also pick up the previous books in this collection, including WHEN THE MARQUESS MET HIS MATCH, HOW TO LOSE A DUKE IN TEN DAYS and CATCH A FALLING HEIRESS.