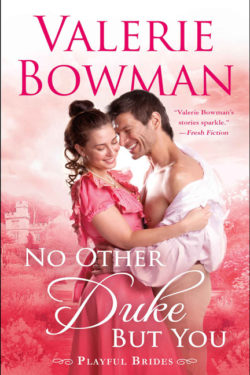 Author

Valerie Bowman

Release Date

April 30, 2019

Publisher

St. Martin's Press

ISBN/ASIN

9781250121677

Our Rating

Reviewed by

Michele Rioli
Our Review
NO OTHER DUKE BUT YOU is the last book in the Playful Brides series. In this final story, Ms. Bowman's novel is a comedy of mistakes at inept matchmaking attempts along with a Shakespearean play produced in secret. It stars Lady Delilah Montebank who is a matchmaker along with her friend Lucy. Although, this time around Delilah is the one who is seeking a match. Her mother threatens Delilah to find a husband soon or else she will set her up with a chap who is decidedly drippy.
So, in determined Delilah style, she sets her sights on the cream of the crop, snare, by hook or by crook, the Duke of Branville. Only, there's a catch. They don't know one another. Her mother demands she find a man by the end of the season, which is one month, or else. To speed up the courting process, Delilah deploys all her wits and learns that a charm potion exists. When the play is over, Delilah plans her move. Only to her shock, she drips the elixir on the wrong guy! She mistakenly applies it on her best friend Lord Thomas Hobbs, the Duke of Huntley instead.
Thomas, a handsome, sincere guy, has been in love with dazzling Delilah and all her unique charms for a long time. After the elixir debacle, it is the perfect time to share his strong feelings towards her. Only, his efforts at explaining become seriously entangled. Will Thomas untangle his tongue in time to convince Delilah of his love? Or does Delilah convincingly charm the Duke of Branville to the altar instead?
NO OTHER DUKE BUT YOU is a sweetly comical story of faulty matchmaking. A love potion, a bungle-some, beautiful lady, Delilah, a kindhearted, stunning-looking man, Thomas, a huge cast of characters combine into an appealing love story. This time around Delilah learns her best friend Thomas is deeply in love with her. If they can make their relationship work, they still have to garner her mother's blessing, which proves to be a prickly problem with sticky surprises galore. Ms. Bowman puts her special stamp of sauciness in her plots that is oh so fun! I just adore Ms. Bowman's books because they are just the bomb! NO OTHER DUKE BUT YOU is just like a delicious Dr. Pepper. Very bubbly, sweet and very refreshing!