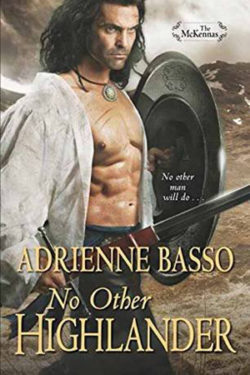 Author

Adrienne Basso

Release Date

March 1, 2017

Publisher

Zebra Historical Romance

ISBN/ASIN

978-1-4201-3769-9

Our Rating

Reviewed by

Diana Mcc
Our Review
In NO OTHER HIGHLANDER author Adrienne Basso creates a believable world set in the  Scottish Highlands of the 1300's. 
Lady Joan Armstrong Fraser both beautiful and pampered is married off to a brute of a man. He abuses her. When he finally divorces  Lady Joan, she and her son go home to the chaos of her family. She must use her cunning and her beauty to keep them safe. Lady Joan prays for an honorable husband, one she can trust.
Sir Malcolm McKenna, a widower with a young daughter, is falsely accused of impregnating a woman at a gathering of clans. A price is put on his head. He's known Lady Joan since childhood and never considered her more than a beautiful spoiled brat. Sir Malcolm is surprised at the change in Lady Joan when she steps forward to protect him against the false allegations. 
Lady Joan and Malcolm are kidnapped by bounty hunters hoping to gain rewards for delivering Sir Malcolm to the clan of the woman who was wronged.
Their attraction and trust grows as they over come many obstacles. The biggest trust issue for Lady Joan comes from all her beatings and mistreatment of her ex-husband. Making physical love hard for her. The author treats this matter in a delicate and caring way. I was very impressed.
Adrienne Basso is a new author to me. I will definitely be buying more of her books.
For a compelling historical both sensitive and steamy, pick up your copy of NO OTHER HIGHLANDER today! You won't be disappointed it is a real page turner.