Nothing Short of Wondrous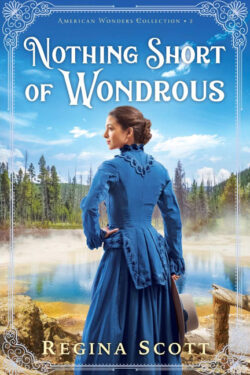 Author

Regina Scott

Release Date

October 20, 2020

Publisher

Revell

ISBN/ASIN

9780800736408

Our Rating

Reviewed by

Dianamcc
Our Review
Author Regina Scott takes us to 1886 Yellowstone National Park and a world of glorious geysers and painted pots with NOTHING SHORT OF WONDROUS, the second book in her series, American Wonders Collection. It is a story of taking chances and forgiveness.
Widow Kate Tremaine owns the Geyser Gateway Inn. Her lease will soon be up and she is hoping to get a 10-year lease to keep her hotel running for years to come. She is faced with competitors who will stop at nothing to get the lease she wants.
Lt. Will Prescott and his band of cavalrymen are sent to patrol Yellowstone, keep it safe from poachers, and to keep visitors safe from nature. When he realizes he needs a guide for this immense task, he asks Kate to recommend one. She offers to guide him and help him make a map of the area for patrol. In exchange, he agrees to help her with projects around the hotel.
They soon find they are quite attracted to each other. Before their relationship can develop, Kate must learn to take chances and trust. Will must overcome a tragic mistake from his past, and only then will he feel worthy of love.
There is a large cast of  secondary characters,which are well developed. The story deals with bears, poachers, a fire and a mystery, all around a building romance.
Regina Scott draws wonderful pictures of the beauty of the area, from the bubbling "paint pots" to the chalky soil that floats up every time someone hops off their horse. (This story brought back memories of my trip to the fantastic and unusual park that is Yellowstone.)
The love story is sweet. NOTHING SHORT OF WONDROUS starts a bit slow but is a fantastic read.