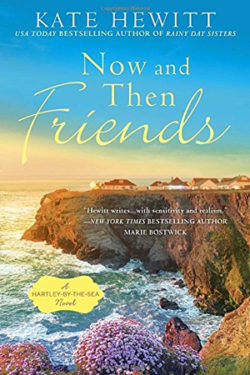 Author

Kate Hewitt

Release Date

July 12, 2016

Publisher

Penguin Random House

ISBN/ASIN

9780451475596

Our Rating

Reviewed by

Jo
Our Review
NOW AND THEN FRIENDS (HARTLEY-BY-THE-SEA #2) had a lot of darkness surrounding it.  It's told in turn by long-ago friends, Rachel and Claire, from their perspective. Rachel, who took over her mother's cleaning  business years ago when her mother broke her back, is the one who's holding her family together after her dad left them. Or is she?  She has two younger sisters, one who is a single mom and has a two year old son, Nathan. Lily, her sister who's in high school, is studying to get into Uni, as they say in England, but it's not her dreams she'd be fulfilling.  Although they all live under the same roof with their bed-ridden mom, they don't really seem to know each other and don't always connect.
Enter Rachel's childhood friend, Claire, who moves back to their small town, and things get a little snarky, fast. Claire's brother, Andrew, also shows up to check on Claire since that's what everyone in her family does. There's an unexpected attraction between Rachel and Andrew when he goes to her for help watching over his sister since he doesn't work nearby. Andrew and Claire come from money, and Rachel is struggling just to keep a roof over her family's head. Rachel is usually strong and does what she has to in order to keep her family focused, but Claire has always been weak due to childhood illnesses and has always bent to her family's demands. Look out when she gets a backbone and starts to take everyone on!
We get to meet some of the locals and come to find out that like any small town, everyone seems to know everyone else's business–even if they don't know all the facts. There are multifaceted characters, whether they are main or secondary ones. There are vivid descriptions of the small businesses, the town, the city and the sea. There are also a lot of local words thrown in which made reading a little more difficult. This is a family-centered book, filled with arguments and tears, and a few bits of laughter and happiness. There is some closure by the end but definitely more story to be told.
This is the first book in the series that I have read, and I will go back and read RAINY DAY SISTERS to fill in some of the blanks. I look forward to reading more books in the series as they are penned and adding other books Hewitt has written to my always growing TBR pile.