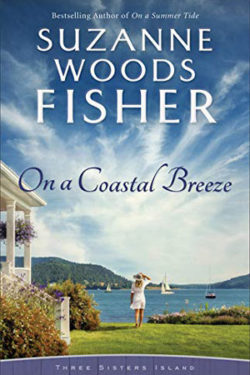 Author

Suzanne Woods Fisher

Release Date

May 5, 2020

Publisher

Revell

ISBN/ASIN

978-0-8007-3499-2

Our Rating

Reviewed by

Patricia Solla
Our Review
ON A COASTAL BREEZE by Suzanne Woods Fisher is written about an island off the coast of Maine and has some wonderfully interesting characters. While part of a series, this book stands alone as a great story.
The story itself revolves Maddie, one of three sisters whose father has bought a property on an island off the coast of Maine. In this tale, the main character is Maddie, who is on the island trying to establish herself as a therapist. Maddie finds herself helping not only her clients, many of whom have been referred by Pastor Rick, but also her sisters, who are carrying their own baggage in their relationships.
The whole book concerns relationships and what affects them. It's so interesting to see the characters develop and change as hidden fears come to a head with each of them, including Maddie herself. There are some surprising events and revelations; and there is much happiness at the end of the story. No cliff hangers but a wonder of what is going to happen next as there are so many interesting characters to have their story written about.
Recommended Read