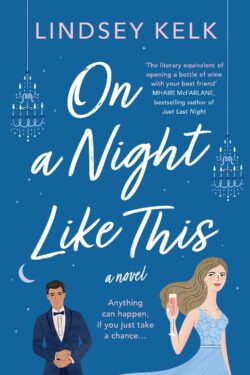 Author

Lindsey Kelk

Release Date

January 18, 2022

Publisher

Harper Collins

ISBN/ASIN

9780008496753/‎B097JJS74S

Our Rating

Reviewed by

Michele Rioli
Our Review
For Fran Cooper, she gets the chance of a lifetime in ON A NIGHT LIKE THIS. Fran is naturally a caregiver. Her chosen profession is personal assistant. She is engaged to Stew, but she feels like their relationship is on pause. She is offered a covert job opportunity on a luxury yacht as an assistant to a famous celebrity. Her job is to manage a difficult singer and to make sure she makes it to the Crystal Ball on time, a famous charity event, in an exotic locale in the Mediterranean. Can she do it?
The challenging singer gives her the slip and she finds herself unexpectedly stuck on the island until the next morning. She has the good fortune to attend the Crystal Ball as a gatecrasher where she meets a dashing, American man named Evan who is from New York. She spends her evening with Evan and they have an understanding, no private information, just one unbelievable night. It's almost too good to be true, especially when she is mistaken for a princess! Evan is the perfect gentleman and Fran is heart-eyes in love. Only there's a catch, she's engaged and lives in England. They may have clicked on a soulmate level, but reality rings true. Will Fran remain with stodgy Stew or will she take a leap of faith with Evan?
My favorite author Ms. Kelk has penned another winning wonder with ON A NIGHT LIKE THIS. A star studded ball, delectable food and drinks, fabulous festivities, and mesmerizing male company makes Fran Cooper's night an unforgettable one at the Crystal Ball. I love how Evan saves the night for Fran, giving her a special night she can remember forever. What a fantastic fantasy man! Fran also discovers from the unexpected circumstances, while stuck on the island, that she deserves better. She realizes that she shouldn't let other people get in the way of her happiness. I enjoyed how Fran looks at the positive side of everything and tries to make the best of things. It's a wonderful rom-com with all the feels. ON A NIGHT LIKE THIS is superbly bubbly, delicious and delightful, just like sparkly champagne!