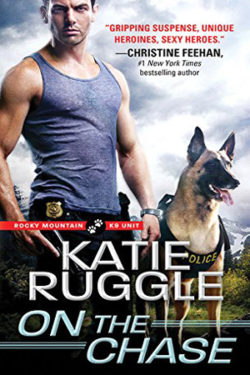 Author

Katie Ruggle

Release Date

September 5, 2017

Publisher

Sourcebooks

ISBN/ASIN

978-1492643074

Our Rating

Reviewed by

SJ
Our Review
ON THE CHASE by Katie Ruggle is the second in her Rocky Mountain K-9 Unit series. It's completely standalone, as I hadn't read the first book but had no trouble understanding this one. And it made me want to go back and read the first! ON THE CHASE is a fast-paced, enjoyable read by a new superstar in romantic suspense.
Kaylee sees something she shouldn't and ends up in real danger when she goes to the police to report it. The criminal she encountered has ties everywhere, so she flees to Monroe, Colorado, a sleepy small town in the Colorado Rockies. There, she becomes Grace, a woman trying desperately to live under the radar while she figures out her next move.
But sexy K-9 cop Hugh Murdoch has a nose for untruths, and he sees more than just a beautiful woman in Grace. He sees a woman scared and needing his help. Except Hugh seems to be in as much trouble as Grace, with a mysterious criminal targeting him. And the sparks begin flying.
The banter between Grace (Kaylee) and Hugh is nonstop throughout the book. The sexual tension is high, and though there's only one love scene towards the end of the story, it fits nicely. The build-up as the two get to know each other better reads true, but at times the banter got to be a little overdone. Though Hugh is described as serious underneath it all, he rarely lets that side of himself show, and I would have liked to have seen more of the tough cop underneath the joker.
Though I had no doubt he was a strong, courageous officer, Hugh makes a few choices that seem to put the heroine in unnecessary danger. I couldn't wrap my head around them or I'd have rated the book higher. However, the treatment of Leah, the canine, is lovely and makes the story richer. Hugh's connection to his furry partner adds a nice dimension. 
ON THE CHASE is a thoroughly enjoyable story. Fans of romantic suspense will not want to miss this entertaining book. I eagerly await Otto's story to come in SURVIVE THE NIGHT, coming Feb 2018. And I plan to go back and read Theo's story in book 1, RUN TO GROUND.