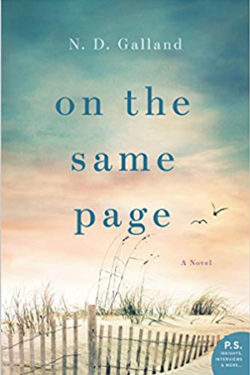 Author

N. D. Galland

Release Date

December 31, 2018

Publisher

William Morrow

ISBN/ASIN

9780062672858

Our Rating

Reviewed by

Jo
Our Review
ON THE SAME PAGE has a lot of stories being told that ultimately tie together nicely.  Taking place on Martha's Vineyard, an island off the Cape of Massachusetts, ON THE SAME PAGE has the islanders pitted against the summer people. But in this story it's really the islanders against one summer person who wants to fly in to his property on his own helicopter.
Joanna is returning to the island from New York, where she now lives and works, after she gets a call that her uncle has been hurt and is in the hospital. She thinks she'll only be helping out for a few weeks. As we see her try to acclimate herself back to island life, especially in the winter, there are many twists and turns to the story.
While freelancing for both local newspapers—a no-no—helping her uncle who doesn't always want her help, and trying to stay financially afloat since she does have an apartment and life in New York, her work is cut out for her. Joanna has so much going on, and she keeps it private. Her interactions with Orion, the helicopter owner, are so unlike her. 
Orion and her uncle don't get along because of his positions on various boards that Orion has had to go before, and neither man knows about her relationship with the other. When they learn the truth, look out!
The vivid descriptions of island life made me feel like I was there. There are a few loose ends to the story but an epilogue would have been nice since the ending is very abrupt.  There is potential for a happily ever after, but it remains just out of reach. I liked the story because of the characters' interactions and how they expressed their love for one another as well as how Joanna was always there for her uncle even though they weren't blood related.
ON THE SAME PAGE is more women's fiction than contemporary romance and is reminiscent to me of books by Elin Hildebrand. Ms. Galland is a new-to-me author. Blurbs from all of her other books are at the back of this one. Some I've already added to my always growing TBR pile!