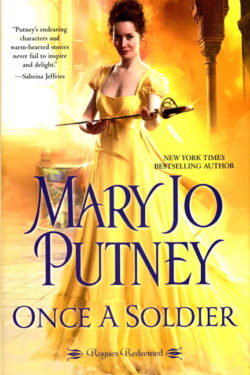 Author

Mary Jo Putney

Release Date

July 1, 2016

Publisher

Kensington

ISBN/ASIN

978-1-4201-4092-7

Our Rating

Reviewed by

Dianamcc
Our Review
ONCE A SOLDIER by Mary Jo Putney begins in Portugal, 1809.
ONCE A SOLDIER is the first of a new series called Rogues Redeemed, about the adventures of a group of English soldiers, who've been captured by the French and imprisoned during the Napoleonic Wars. They manage to escape the night before being executed as war criminals. They pledge to be friends forever, and to come to the aid of one another when needed.
After the war, Will Masterson is asked by one of these friends, to go to the tiny kingdom of San Gabriel to check on the condition of the land and people, as it was well known the French destroyed many buildings, bridges and homes while marching through San Gabriel.
Will is to offer assistance and aid to the small country. Upon arrival, Will is touched by the terrible condition of the country. He stays longer than he was asked to, and using his own funds does what he can to help restore San Gabriel. He meets Athena Markham, who is companion and advisor to the princess Sophia. Athena is the princess's confidant. Princess Sophia's father and brother were captured by the French and it is up to Sophia to rule the country.
Athena and Will's friendship and love slowly grows. The relationship of these two was so slow, as to be almost non-existent, for most of the book. For a romance book I expected more romance, less history.
Will builds a bridge, gets the mill working and rallies troops from the village to help fight marauding French soldiers who want to claim San Gabriel for their own, even though the war has ended. Athena fights alongside Will against the French. He admires her for it and their love deepens.
The main thing keeping Athena and Will apart is the fact that she is a bastard, and he is an heir to a title and great wealth. Throughout the story Athena is the only one who has a problem with her parentage. Athena's parentage does not matter to Will, he wants her in spite of it. So what is keeping these two apart? I'm not sure.
In the end Athena and Will do get their HEA.
I read Regency books all the time. In this particular story the dialogue sounded too modern. This took me out of the story. The fight scenes were really well done. The descriptive and historical parts of this book were really good and gave me the sense of being there. The author did a tremendous amount of research for this story and it shows. If you like books heavy on the history and lighter on the romance, this book is for you.