One Final Breath (Dive Team Investigations Book #3)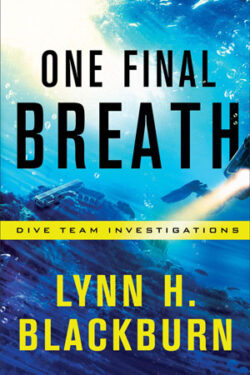 Author

Lynn H Blackburn

Release Date

September 3, 2019

Publisher

Revell

ISBN/ASIN

B07PWN19NZ

Our Rating

Reviewed by

BPoston
Our Review
ONE FINAL BREATH is the third book in the Dive Team Series and can be read as a stand alone, but the characters are first introduced in the two previous books, which makes their history more complete.
Gabe Chavez was a former undercover cop working homicide. He now is a member of the Police Dive Team and works alongside team captain Anissa Bell. She is tough but fair and pushes her team to be the best at what they do. When a young boy is found murdered in Lake Porter, Gabe is assigned to solve the case.
Years ago, when her best friend disappeared, the course of Anissa Bell's life irrevocably changed. She has never found the answers she seeks although she has never given up trying to find out what happened. However, she is beginning to wonder if the murder case Gabe is working on is somehow connected to what happened in the past. Now a young child is missing. What's going on?
Gabe and Anissa definitely butt heads but are now forced to work closely together to solve these mysteries. As they spend more time together, they come to discover that animosity is a close ally to attraction.  As the body count increases, can they figure out who is responsible and why, or will they get caught in the crossfire of someone who is bent on revenge?
Another great story by Lynn Blackburn that is hard to put down until you reach the end.  
Recommended Read