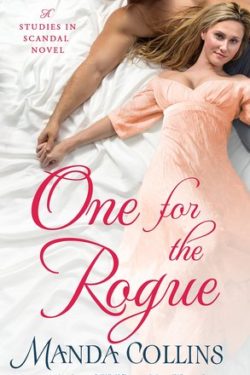 Author

Manda Collins

Release Date

June 26, 2018

Publisher

St. Martin's

ISBN/ASIN

9781250109927/B078CYBTFF

Our Rating

Reviewed by

Michele Rioli
Our Review
Romance is a rare commodity in ONE FOR THE ROGUE in Manda Collins' last entry in the Studies In Scandal series. Gemma Hastings, a gorgeous, gifted geologist uncovers a fossil and is convinced that it is what her late aunt left to her in her inheritance. But when a man is murdered, Gemma is connected because it's her fossil that is stolen and the body of a dead man is laying nearby. Now, a certain handsome man, well known Lord Cameron Lisle, a fossil hunter himself, has made it his job to protect Gemma. Well, actually his brother Benedick, a vicar, is married to Gemma's sister and asked Cam to watch over Gemma. Now, watch the real sparks fly!
Gemma and Cam get off to a rocky start when she writes an article and submits it to Cam's journal and he rejects it as hearsay. With her dander up, Gemma sets out to prove her independence, that she can take care of herself with no notions of marrying anytime soon. She resents Cam's macho attitude and they clash, big time. They argue, jostle, tease and ignore each other. However, with a killer on the loose, Gemma acquiesces and gives Cam a chance to show off his chivalry. Do they come to their senses and acknowledge their undeniable chemistry? Does Gemma fall for the irritating, hunkalicious Lord Cameron Lisle? Will they catch the crafty killer?
ONE FOR THE ROGUE is a rockin' love story flowing with abundant amounts of charm, vavoom and a compelling whodunit. A pretty, feisty geologist, a vexing, dashing man, a mysterious murder and more, round out Ms. Collins' awesome last novel in her series. I loved Gemma's plucky attitude, she stands up for herself and doesn't take flack from anyone. The author expertly nails down the male psyche and all the prejudices they have towards females working in male dominated fields. This series impressively depicts the problems women have at breaking down barriers, so that they have access to all fields of education. Gemma is steadfast in her chosen field, geology, and wants to prove herself worthy. Cam has no intention of marrying, just like Gemma, but who is he fooling, himself? I loved watching the relationship between Cam and Gemma blossom. This is a fantastic end to a fabulous series! ONE FOR THE ROGUE is grace, strength and vulnerability combined. Comfy and cozy, like butter!