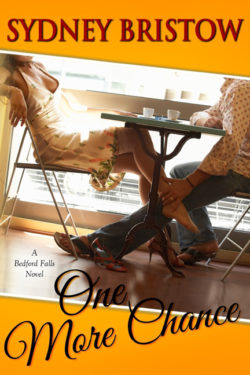 Author

Sydney Bristow

Release Date

January 23, 2015

Publisher

Createspace

ISBN/ASIN

9781507639764

Our Rating

Reviewed by

Jo
Our Review
ONE MORE CHANCE is the third book in the BEDFORD FALLS series and a nice continuation of the previous stories. This is Scott and Ashley's story, encompassing both when they're together and apart in the intervening years. It's also the story of what their lives were like growing up. My emotions were engaged from the first page to the last as I laughed and cried my way through the book.
There were quite a few secrets revealed that were mind-boggling and intense. Ashley has a history of running away from those she loves without warning or reason. Staying away fifteen years from her family and Scott while acting in LA seemed harsh, especially since we know she's lonely and doesn't have friends she can rely on.
There was a depth to the characters and a nice flow to the story. Some relationships endured while others seemed to implode due to a lack of communication. There are family and friends and characters we've grown to love from the first two books in the series, who fill the pages. Emotions run the gamut in this novel. The author gave us some closure, but an epilogue would have given me the fruition of the happily-ever-afters we saw in all three books in the series.
I do hope book three isn't the last in the series since Bristow left me hanging about what might happen between Gabe and Cassandra. I for one want to know more–hint, hint!
Bristow is a new-to-me author. I look forward to reading more books she pens in the contemporary romance genre.