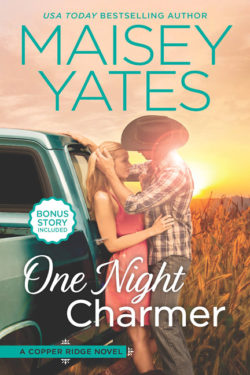 Author

Maisey Yates

Release Date

April 19, 2016

Publisher

HQN Books

ISBN/ASIN

978-0373789658

Our Rating

Reviewed by

Rhea
Our Review
Ace Thompson is no stranger to rich women who feel entitled. He has already been down that road, so when Sierra West walks into his bar, he feels armed and ready to deal with her. Sierra did nothing if not fit into the rich girl mold the night he drove her home because she was too drunk to drive. When she comes back into his bar to apologize and ask for a job, he is prepared for a girl who wouldn't even be able to fold bar towels. If only she didn't have a sexy little bounce when she walked across the room…
Sierra West's world has just been turned upside down. She is on the outs with her parents and now she's in need of a job and desperate for some independence. But the one man in town who can give her that job is the one man with whom she managed to make a total fool out of herself with her sassy mouth. Now she is being forced to eat crow and not only apologize, but apologize and humbly ask for a job. It wouldn't be as difficult if he didn't have the body of a Greek god. She didn't remember Ace being this good-looking the night he drove her home, but soon, it wasn't going to matter if he was to be her boss.  
Sierra and Ace enter into a tentative work relationship fraught with emotional baggage, and neither one is as ready as they think they are for a platonic work alliance, but they continue to work closely together day in and day out. As Ace begins to peel back the layers of Sierra's complicated life, he finds himself starting to get to know the real Sierra – the girl who is starting to figure out her life now that she is outside of her safe bubble. The same girl who's not just a spoiled rich diva expecting everything to be handed to her. The same girl who's slowly creeping into every pore of his being, despite the walls he built a long time ago. Sierra is smart, funny, and turns out to be one of the best employees he has.
Maisey Yates has brought together two characters who are explosive from the beginning. Sierra West does some deep soul-searching throughout the book, and Yates develops Sierra West's character with amazing insight and clarity into the human psyche. Pairing Sierra with a strong and stubborn antagonist allows for the reader to visualize not only Sierra's soul-searching, but to also allow for the same soul-searching on Ace's part. Yates' story is sprinkled with epiphany-inducing moments that will make the reader pause and relate that moment to their own lives.
Maisey Yates has not just written a contemporary romance novel. ONE NIGHT CHARMER is a perceptive story about a relationship between two people struggling to figure out their place in this world and if it will include each other. For anyone who is wrestling with that same issue, this is the book to read.
A RECOMMENDED READ!