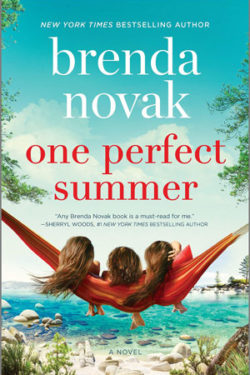 Author

Brenda Novak

Release Date

April 7, 2020

Publisher

MIRA

ISBN/ASIN

B07R71BG48

Our Rating

Reviewed by

BPoston
Our Review
As a lark, Serenity Alston takes a DNA test to see if there is some dark, crazy ancestor in her past. What she finds blows her away. She learns she has two half-sisters she never knew existed, which has her questioning her life. Desperate for answers, she contacts her two half-sisters who are just as puzzled as she is and they arrange to meet. And so begins Brenda Novak's wonderful ONE PERFECT SUMMER.
These three women could not be more different. Serenity is a true crime writer who discovered her husband committed horrible crimes. Her life is in shambles. Her now ex-husband is in prison, and his family blames her for his being in jail. As a true crime writer, she feels she should have known what he was up to and that she's let down her fans by not seeing what was happening under her own nose.
Reagan is a tough career woman who did something she is not proud of. She thought she was in love with a co-worker, which ended up with them having a one-night stand. Reagan has some tough choices to make about her career and her life. Can having sisters help her through what will probably be one of the hardest times of her life?
Lorelei thought she had the perfect life until she finds out her husband has cheated on her with her best friend—who is now pregnant. Because the pregnancy was an accident, her best friend and husband don't understand why they can't all still remain friends.  
These three women are all at a crossroads in their lives. The time they spend together allows them to really look at their lives and figure out their futures. Unraveling their pasts helps them realize what it means to be sisters. This is an outstanding read that touches on relationships, sisterhood, and the trials and tribulations of connecting.
Recommended Read