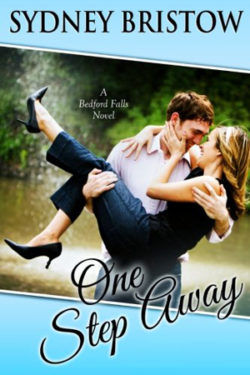 Author

Sydney Bristow

Release Date

January 19, 2015

Publisher

Createspace

ISBN/ASIN

9781507638873

Our Rating

Reviewed by

Jo
Our Review
ONE STEP AWAY, the first book in the BEDFORD FALLS SERIES, has a one-step forward and two-steps back approach between Alex and Marisa, who are best friends (though he wants a whole lot more.) Marisa doesn't like to get in too deep but always picks the wrong guys for boyfriends, not seeing what's right in front of her. 
Alex and Marisa are librarians who grew up in the same town. Their home lives couldn't have been more different though. Alex's sister, Kelsey, is one of Marisa's best friends, which could be awkward but isn't. Kelsey owns two themed eating establishments in town, Forever and Always, a 1980's-themed diner, and a paranormal-themed restaurant, The Witching Hour. They are often the backdrop to the story along with many bars.
Alex is taking dating advice from his friend of ten years, Damon, who is also a romance writer. His advice doesn't always seem plausible, but Alex tries to do what he says so he and Marisa can become a couple. But is that what she wants? How comfortable is Alex following that advice, especially when he leaves his comfort zone over and over again? Marisa's current on-again, off-again boyfriend, Brad, leaves a lot to be desired. I didn't like him very much and neither did her friends or Alex. 
The story is filled with family and friends. The characters deal with bullying and self-esteem issues while overcoming obstacles to falling in love. Music, movies, superheroes, and old television shows were tied into the story as well. There are moments when the characters seem to retreat rather than face what's actually going on. There are twists and turns to the story, some depth to the characters, and a happily ever after that left me wanting to know what happens next.  .
Bristow is a new to me author. I look forward to reading the next two books in the series, ONE LAST PROMISE and ONE MORE CHANCE. There was an excerpt of ONE LAST PROMISE at the back of the book, and it just whet my appetite for more!