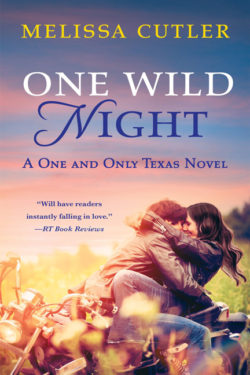 Author

Melissa Cutler

Release Date

March 7, 2017

Publisher

St. Martin's Paperbacks

ISBN/ASIN

B01KFWXAB8

Our Rating

Reviewed by

B Poston
Our Review
In Melissa Cutler's ONE WILD NIGHT, Gentry Wells is a famous country singer who has had several hits. His singing persona is that of a bad boy who likes to raise hell, drink, and have pretty women all around. However, lately, he has become dissatisfied with this image. There is more to him than being this shallow bad boy. He wants to write his own music about things important to him. He feels lost and is tired of being told what to do, how to perform, and what songs he can sing. Gentry is supposed to be working on a new album containing his own songs, but his creative juices just aren't flowing.  
Skye Martinez works in the family business at the Briscoe Ranch Resort. While the work is not her passion (housekeeping at the resort), it is respectable and she is proud her family has had this contract with the resort for almost four decades. Skye believes it's time she settled down. She wants to find a nice man who lives in the same town and wants to raise a family. Friends keep fixing her up, but she has rejected all suitors. Skye has a bit of a naughty streak, and though these men are really nice, they're also really boring. She's just not attracted.
While attending a wedding at the resort, Gentry and Skye cross paths. Their chance meeting in the stable is what they both need, because they are at crossroads in their lives. There is an instant attraction, but both know they're wrong for each other. However, it doesn't prevent them from wanting to meet the next night for some fun.
ONE WILD NIGHT is a story of two people looking for what they truly want in life, not what they think they want. Both have pasts that make them afraid to risk their hearts, but when fate intervenes in the form of a horrible accident, Gentry and Skye reassess their lives and their feelings for each other.
Melissa Cutler has crafted a story that is passionate, filled with funny characters, and mostly, filled with love. I enjoyed reading ONE WILD NIGHT very much.