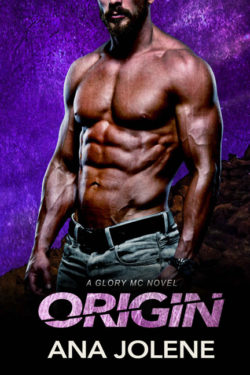 Author

Ana Jolene

Release Date

March 14, 2017

Publisher

Amazon Digital Services LLC

ISBN/ASIN

B01N7U4XU2

Our Rating

Reviewed by

BPoston
Our Review
ORIGIN is the second book in the Glory MC series by Ana Jolene and a stand-alone read. However, I recommend reading GLORY, the first book in the series, because characters from the first book also appear in this book.
Seven Douglass has gotten to know the Glory MC members through her roommate Indie, who is now the girlfriend of a club member. They are a hard core group but fun to be around, and they make Seven feel safe in a world that has been turned upside down. The only problem she has is with MC member Dylan "Lucky" Winters. He rubs her the wrong way. They can't be in a room together for five minutes before they are at each other's throats.
Lucky loves women. He is totally devoted to the Glory MC; they are the brothers he will do anything for. Seven Douglass is a royal pain. She argues with him and constantly harasses him. He doesn't like her. Then…he's not certain how it happened, but he ends up kissing her. Now he can't get her out of his mind.  
This book is the rocky romance between Seven and Lucky. I enjoyed their story. The banter between the characters was fun. When they end up sharing a residence, the fur really started to fly. Even amidst this harsh world, love can still be found.
An entertaining read.