Our Last Days in Barcelona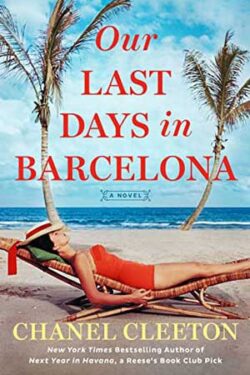 Author

Chanel Cleeton

Release Date

May 24, 2022

Publisher

Berkley

ISBN/ASIN

9780593197820

Our Rating

Reviewed by

Jo
Our Review
OUR LAST DAYS IN BARCELONA is historical fiction set in both 1936 and 1964. The story happens in Barcelona, Havana, Florida, and New York at different times. The book centers around Isabel and her mother, Alicia.
The story is told by different people in different time periods and could be confusing and choppy at times. I often had to go back to the beginning of the chapter to remind me who was speaking and what point in time they were. Note: OUR LAST DAYS IN BARCELONA is a connected story to other books written about the Perez family. Although I haven't read any of them yet, I didn't feel lost since there was a lot of background information given in this book.
Isabel travels to Barcelona from Florida in 1964 to check on her sister, Beatriz, who lives there. No one has heard from Beatriz, and she's not returning phone calls. Isabel has adventures while there since she hasn't been anywhere and realizes she likes some of the freedoms she has by being away from her husband and family. She and Beatriz, who have been estranged, reconcile, and Isabel becomes friends with Diego, one of Beatriz's friends. This sets off a multitude of feelings that Isabel never expected to feel, including love!
There are many emotional moments in this story, especially between the sisters and their mother who are living in exile from Cuba as well as others who remain in Cuba. There are also many emotions shared between Isabel and Diego. The story has several story lines being woven together. Every detail is important and oftentimes a connection is made unexpectedly. There is nice closure and a happily ever after that meshes well with some expected sadness. I would love the story to continue with younger sister, Maria's story.