Out Of The Clear Blue Sky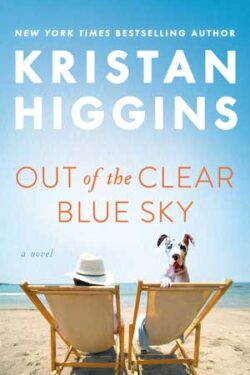 Author

Kristan Higgins

Release Date

June 7, 2022

Publisher

Berkley

ISBN/ASIN

9780593335338/B09FPJ54K3

Our Rating

Reviewed by

Michele Rioli
Our Review
OUT OF THE CLEAR BLUE SKY is a stunning story of betrayal, new beginnings, and budding relationships. This tale stars Lillie Silva, a mother who deals with empty nest syndrome. Her only child leaves for college, then her rat of a husband announces he's leaving to find joy with another lady. Lillie's world as she knows it comes to a sudden halt. Her midwife practice keeps her busy but emotionally she's a wreck. Her beautiful ordered world is ruined! How will Lillie handle it?
Truthfully, Lillie doesn't. She goes berserk, taking revenge on her ex. Funny how life deals out problems. Lillie's on coast right now, breathing in and out, trying hard to find the good in all things. Does she want to know who the woman is that broke up their marriage?
Time is on her side and Lillie reconnects with her estranged sister. Plus, an old acquaintance, Ben Hallowell, who she was in a car accident with years ago, enters her life and offers friendship. Her parents are divorced, so her mother doesn't offer her much comfort. Then again, her mom is very independent. But, her partner is someone special. Lillie also has a special relationship with her dad. He helps her out in a unique way that touches her heart. You never know where life will lead you, as Lillie finds out. Will Lillie find peace again?
OUT OF THE CLEAR BLUE SKY is filled with love, laughter, and loss. Ms. Higgins beautifully weaves an emotional tale of divorce, betrayal, family, midwifery, and broken relationships. The story had me in tears with the deep emotional landmines throughout the pages. There are various subplots and many colorful characters. Lillie surprisingly forms friendships with unlikely people. This story is told completely, truthfully, and has a beautiful ending. I absolutely loved it! Definitely read, OUT OF THE CLEAR BLUE SKY. It is a shocking, surprising story!
Recommended Read