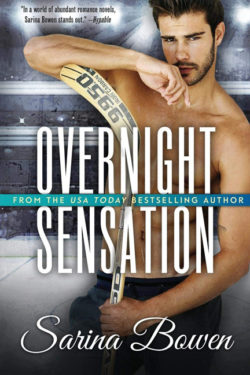 Author

Sarina Bowen

Release Date

January 22, 2019

Publisher

Tuxbury Publishing LLC

ISBN/ASIN

B07K5WL48S

Our Rating

Reviewed by

LJT
Our Review
OVERNIGHT SENSATION is the fifth book from Sarina Bowen's BROOKLYN BRUISERS series. The Bruisers are a professional hockey team and the camaraderie among the players is inspiring, as well as jovial. This story focuses on Jason Castro, a popular and talented player that prefers to play the field rather than commit to one woman. A tragedy from years ago still haunts him and is the reason he prefers to remain commitment free.
Heidi Jo Pepper is interning with the Bruisers and hopes to get a full-time job with them when her internship ends. Unfortunately, her father is the league's commissioner, and he is not very happy with her career or romantic choices. As a result, he makes life a bit difficult for Heidi Jo to navigate. However, she is able to be successful in spite of her father's interference.
Jason and Heidi Jo have been playing the flirting game for quite some time. They finally give in to their desires and, over time, they are shocked to realize that they have developed feelings for one another, Jason especially. They are soulmates, and their future together is bright.
This is a nicely-written love story with an engaging plot and well-defined characters. I found Jason and Heidi Jo to be intelligent and real, and I liked the way Ms. Bowen evolved them both as individuals and as a couple. Their time together was replete with warmth and lustful attraction. Heidi Jo's ambition and boldness was energizing. Overall, this is an interesting and slightly emotional sports romance that twists and turns in all the right places.