Passion on Park Avenue (The Central Park Pact Book 1)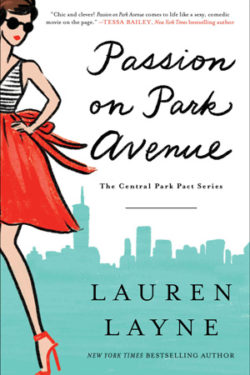 Author

Lauren Layne

Release Date

May 28, 2019

Publisher

Gallery Books

ISBN/ASIN

9781501191572

Our Rating

Reviewed by

Jo
Our Review
PASSION ON PARK AVENUE is the first book in the CENTRAL PARK PACT series and it didn't disappoint. It was fun and flirty from the first page to the last, and I loved the cover. There were some sad moments, given Oliver's dad's affliction with Alzheimer's and Naomi's remembrances of growing up poor.
This is Naomi and Oliver's story. It's also the story of Naomi's, Claire's, and Audrey's surprising friendship and a tale of revenge for a past that isn't as clear cut as it's remembered. Both Oliver and Naomi share conflicts with the past versus the present.
The story has multiple story lines going on, and they're interwoven nicely. The characters have a real depth to them. We see the success Naomi's made of her life and her love of her business. We see the downfall of Oliver's father due to his illness and how it affects everyone around him. We get some insight into the world of those with money who live in New York City, and it's fascinating. The romance ties everything together. I'm looking forward to reading more in this series and meeting up with the characters again. 
Next up is LOVE ON LEXINGTON AVENUE, and I can't wait!
Ms. Layne is an author I have read before, and I enjoy her books. I look forward to reading more of her books and not just those in this series.