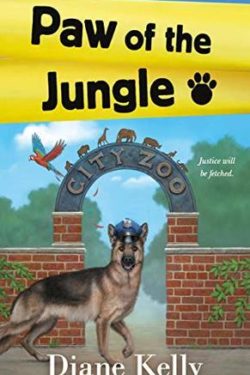 Author

Diane Kelly

Release Date

November 26, 2019

Publisher

St. Martin's Press

ISBN/ASIN

9781250197375/B07P9LPNHB

Our Rating

Reviewed by

Michele Rioli
Our Review
It's the thrill of the chase in Diane Kelly's new novel, PAW OF THE JUNGLE. Megan Luz and her trained dog, Brigit, are back sniffing out fowl, friends and foe, as one by one, animals disappear from a city zoo. Will Megan find the culprit or will this case remain unsolved?
Megan, a doggedly-determined, dishy cop is happy to have Brigit by her side when nailing the bad guys, especially with the speed Brigit can run. Brigit's trained nose can sniff out the most discerning smells too. This time zoo animals are stolen and Brigit is in top form snuffling and finding clues that hopefully lead Megan to the foul smelling culprit. It's great fun following the adventures of Megan and Brigit as they encounter a slippery slope of evidence to who is committing the masked menagerie crime wave. Megan's handsome boyfriend, Seth, a firefighter, her friends and coworkers, offer all their help and support as she unravels the mystifying mystery. Will they find the felon or has he flown the coop?
PAW OF THE JUNGLE is irresistibly unput-downable with its trademark complex plots and crazy characters. Cagey plots with vibrant pacing starring a snazzy cop and her canine partner sets this mystery series apart from the pack. Ms. Kelly has a real knack for telling cozy, gripping stories with a lot of heart. The point of view from Megan, her dog and the suspect is a delightful feature. Insights into the minds of all parties involved enhances the familial feel of the story. Ms. Kelly's stories have a lot of flair with the mini sub-plots scattered throughout. The series is evolving nicely with hints of wedding bells between Seth and Megan in a future book. I can't wait for Megan to tie the knot! PAW OF THE JUNGLE is simply the best, paws down!