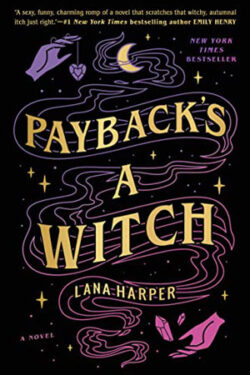 Author

Lana Harper

Release Date

October 5, 2021

Publisher

Berkley

ISBN/ASIN

Our Rating

Reviewed by

Dianamcc
Our Review
PAYBACK'S A WITCH by Lana Harper is book one of the Witches of Thistle Grove series.
Emmy Harlow, heart broken by Gareth Blackmoore, leaves the magical town of Thistle Grove behind. Thistle Grove witches draw their power from the town, so when they leave, the weaker they become. When Emmy returns after nine long years away, she feels her magic begin to return.
Emmy has returned because she is the scion for Harlow house and must arbitrate the Gauntlet of the Grove. The other three houses will compete in the tournament, which is held every fifty years.
She reunites with her best friends, Linden Thorn and Natalia Avramov, witches from two of the houses. All three of the women have been dumped by Gareth Blackmore, the son of the most powerful magical family of the fourth house and the winner of the Gauntlet fifty years ago. The girls decide to work together to beat him in the Gauntlet, as they will represent their houses in the tournament.
Now that Emmy is back and has met Natalia Avmarov, she is experiencing new feelings. I found this a bit hard to believe as the groundwork for their relationship didn't lead up to this. Because they are jilted suddenly they have lesbian feelings?
The book is more about the struggles of Emmy with her family, the magical town, and the Gauntlet while the romance was a secondary plot line.
PAYBACK'S A WITCH is the perfect witchy blend of humor, self-discovery, and heart break. If you like witches, romance, and snark, you'll like PAYBACK'S A WITCH. I highly recommend this book.