People We Meet on Vacation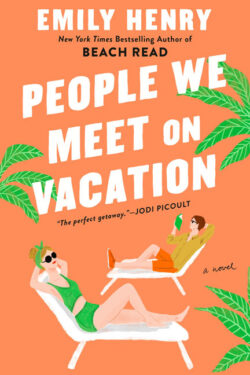 Author

Emily Henry

Release Date

May 11, 2021

Publisher

Berkley

ISBN/ASIN

9781984806758

Our Rating

Reviewed by

Jo
Our Review
PEOPLE WE MEET ON VACATION is the second book by Ms. Henry. Having read the first one, BEACH ROAD, I looked forward to reading this one. There are quirky characters throughout, which is fun. Best friends since college, Alex and Poppy need to communicate better. Both are always assuming they know what the other is saying or what they mean, and they couldn't be more wrong!
The story starts with the prologue from five years before. Then we are either in the present day or on one of their shared vacations from the past twelve years. The adventures Poppy and Alex embark on are often over the top, and there are a few laugh out loud moments. Neither Poppy nor Alex are happy with their lives, but while Alex seems content living in his hometown in Ohio, Poppy couldn't get away fast enough and ends up in New York City. Both of them date other people they don't like for each other, which is interesting…
There are many stories being told, and they're woven together nicely. PEOPLE WE MEET ON VACATION has a nice flow with many emotional moments. The best are those that they each spend with their families or with each other. There is nice closure with the epilogue and a chance for an unexpected happily ever after, but I was hoping for a little bit more. The cover is playful and colorful and fits the book. 
The Behind the Book details by the author add another layer to the story and is insightful, mirroring the impressions I formed while reading the book. The discussion questions are thought provoking and would be great for a book club. I look forward to seeing what Ms. Henry writes next!