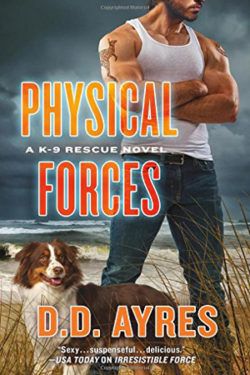 Author

D.D Ayres

Release Date

May 30, 2017

Publisher

St. Martin's Paperbacks

ISBN/ASIN

9781250086990

Our Rating

Reviewed by

Jo
Our Review
PHYSICAL FORCES is book six in the K-9 RESCUE SERIES, and it didn't disappoint. There's one adventure after another with Oliver from BARKS showing up unexpectedly and helping Mac out, though she doesn't want his help. He and Mac have an instant attraction even if they do start off on the wrong foot.
Mac is an accident waiting to happen. She's barely making ends meet. She has no family or friends in the area and works for a PI finding and rescuing lost pets. Unfortunately, Mac gets into a lot of trouble doing it. There's one mishap after another, but Mac is hellbent on finding out who's spreading rumors that she first steals the dogs,then offers to find them. 
She and Oliver work well together from the moment their paths first cross, but he goes all over the world to rescue people and animals after disasters strike. What could they possibly have in common?
The story is filled with friends and canines and a mystery that deepens. Be prepared for some violence and murder, along with a terrific romance. Some of Mac's adventures definitely had my heart racing. The story flows nicely and is set in Florida, Hawaii, and Virginia. There is nice closure with a few loose ends. There's a happily-ever-after I enjoyed, and I look forward to reading more books in this series.
I've only read book 5 so far, EXPLOSIVE FORCES, so I've a lot more books in this series to read.  Ayres is a new-to-me author and I look forward to reading more of her books.