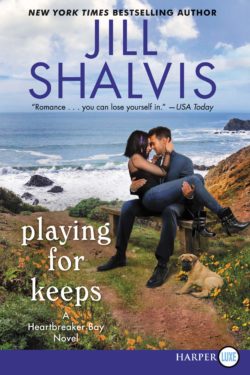 Author

Jill Shalvis

Release Date

January 22, 2019

Publisher

Avon

ISBN/ASIN

B0796STJCV

Our Rating

Reviewed by

Raonaid
Our Review
Mercedes "Sadie" Lane is a struggling tattoo artist trying to build her clientele. She and the business mogul Caleb Parker have always had a mercurial association. Sadie co-adopts an abandoned puppy she and Caleb find near her shop. This new dynamic in their relationship allows her to see another side of him. Can Caleb help Sadie conquer her insecurities for good? Or will they stand in the way of their happily-ever-after?
Caleb Parker is a successful and an affluent entrepreneur. When he co-adopts an abandoned puppy, Caleb learns that he's not allergic to dogs as he believed. He and Sadie may be polar opposites, but there is something about the woman that calls to him. Caleb discovers they have more in common than either of them expected. Can Caleb convince Sadie to take a chance with him? Or will their hang ups doom their relationship?
Sadie is a woman I instantly identified with, especially her insecurity problems. As a former cutter, I understand her reasons behind the need because they mirrored mine. Sadie uses snark as an armor to protect herself. I love her Criminal Minds reference at the start of the book. It made me giggle and agree whole-heartedly. What I adore the most about Sadie is how she specializes in scar cover-up tattoos. She wants to help people replace their bad memories with something good or positive.
Caleb is a knight in designer suits. He is a man who has never forgotten his humble roots nor the people that have helped him throughout the years. I like how Caleb never let wealth or his accomplishments go to his head. Instead, he uses them to help other people achieve their dreams. I adore the patience Caleb shows with Sadie. He knows when to back off and give her the space she desperately needs. What I love the most about Caleb is how he defended Sadie to her parents. He did not like or approve of their passive aggressive demeanor towards her.
PLAYING FOR KEEPS is book seven in Jill Shalvis's contemporary-romance series, HEARTBREAKER BAY. Lollipop, the puppy, stole the entire story. Lollipop is my favorite character. I love how the pup is beneficial to Caleb and Sadie becoming a couple. She gives them reasons to settle their differences and interact more.
PLAYING FOR KEEPS is a fun yet heartening tale of two emotionally hung up individuals discovering love. As always, I did not want this book to end because I enjoy the author's humor. I hope either Ivy or Kel gets a story next. Or possibly the pair hooking up.
A recommend read.