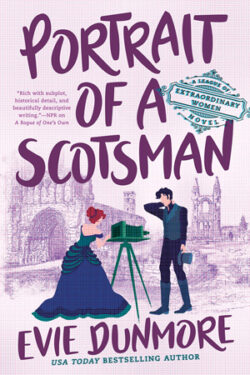 Author

Evie Dunmore

Release Date

September 7, 2021

Publisher

Berkley

ISBN/ASIN

9781984805720

Our Rating

Reviewed by

Michele Rioli
Our Review
PORTRAIT OF A SCOTSMAN is a deep woven tapestry of women's rights, romantic entanglements and risky, suspenseful adventures. It stars Hattie Greenfield, a beautiful London banking heiress, whose goal is to become an acclaimed artist. It wouldn't hurt also to wed a virile, handsome lord. Although, unconventional Hattie is found in a compromising position with none other, Lucian Blackstone, a rakish Scottish rogue with a foul temper. He is decidedly handsome and very wealthy. His muddled past and upbringing, eh, not so great. What then is Hattie thinking when she is seen kissing Lucian in his home?
Lucian is quite taken with the fiery beauty and kissing those voluptuous lips is one of his top priorities. However, their moment of passion is viewed by many unfortunately and the only way to salvage Hattie's reputation is to quickly wed. Hattie bristles at having to marry Lucian, not her top pick for a husband, and she quickly tests his patience by setting boundaries. Hmm…this is not what Lucian expected but his ulterior motive for really wedding her is putting all the pieces together quite nicely. Now, if he can quit touching her and kissing her senseless, he can complete his top priority, revenge. What dangerous web has Lucian woven?
A complex plot and a captivating romance, PORTRAIT OF A SCOTSMAN is scandalous, scintillating and super sensuous! This is the last book in, The League Of Extraordinary Women, series. Lucian and Hattie make an ideal couple, albeit an unconventional one. I absolutely loved feisty beauty, Hattie, and her suffragist friends with their loyal determination to their cause. Lucian is a dangerous cad mixed up with bloodshed, shady politics and emotional dilemmas. Ms. Dunmore pens an excellent mix of intelligent characters, smart dialogue, risky escapades, and crackling passion. I was bowled over by the intense plot and its chilling undertones. What an interesting look at historical facts in eighteenth century England. A huge round of applause to Ms. Dunmore's research into the suffragist movement, which I found very fascinating. Hattie and her friends are great fun! I would love to be a part of their group! PORTRAIT OF A SCOTSMAN is like a fine bottle of wine. Refined, rich and very robust!
Recommended Read