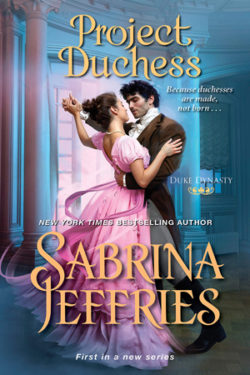 Author

Sabrina Jeffries

Release Date

June 25, 2019

Publisher

Kensington / Zebra

ISBN/ASIN

B07HVXS62T

Our Rating

Reviewed by

Raonaid
Our Review
Fletcher "Grey" Pryde, Duke of Greycourt, is the son of Lydia Fletcher and her first ducal husband. When news of his step-father's death reaches him, he drops everything to help his family with the funeral. However, Grey finds his half-brother's cousin handling the arrangements. The outspoken chit dares to call him out over his arrogant behavior. Grey soon finds himself fascinated with the intriguing woman, so he offers to help Beatrice Wolfe prepare for her upcoming debut. Can Grey let go of his past for a future with Beatrice? Or will other circumstances stand in their way?
Beatrice "Bea" Wolfe is the orphaned and impoverished cousin of the fourth Duke of Armitage. She helps her relatives by overseeing her late uncle's funeral and managing the household ledgers. Beatrice accepts becoming the dowager's latest project in hopes of finding a suitable husband. She cannot help but feel leery of taking coming-out lessons from the lofty Duke of Greycourt. However, their time together allows her to see the man hidden behind the arrogant façade. Can Beatrice help Grey reconcile with his family? Or will their guarded secrets keep them apart?
Grey is a gem. I understand his caution of reacquainting with his mother and half-siblings, especially after years of his uncle's callousness. His cool aloofness is a self-preservation mechanism to protect his heart from further pain. I adore how Grey encourages Beatrice to be her usual forthright self around him. He likes that she does not kowtow to his every whim; instead, she treats him like an ordinary person instead of wealthy duke. What I love the most about Grey is how he acknowledges that he and Beatrice have a lot in common. He finds a kindred spirit, one who can understand all the anguish and torment he went through as a kid.
Beatrice is a remarkable heroine. She has endured so many ups and downs throughout her life. I like how Beatrice never allowed her late uncle's licentious behavior to color her opinions of people. She does not escape unscathed; however, she uses his ill treatment to bolster her inner strength to persevere. I adore Beatrice's spunk and temerity. She is not afraid to stand up to a duke or take him to task about his snobbery. What I love the most about Beatrice is her sibling loyalty. She wants to improve her life so she can offer her prickly brother a better future.
PROJECT DUCHESS is book one in Sabrina Jeffries' brand new historical romance series, DUKE DYNASTY. I have been reading this author since my late teens, so I always anticipate any new book she releases. This one is no exception. I love how the title is cleverly based off a reality TV show. It is a genius way to set the book apart from the other stories set in the historical romance genre.
PROJECT DUCHESS is a sweet and uplifting tale of family reconciliation and expunging one's painful past for love. I suspect two possible pairings for upcoming books. I cannot wait to see if my suspicions prove correct.
A recommended read.