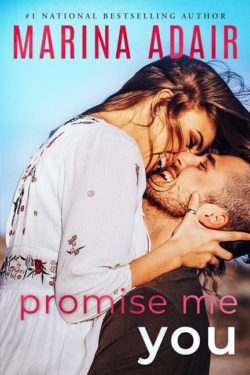 Author

Marina Adair

Release Date

October 23, 2018

Publisher

Montlake Romance

ISBN/ASIN

9781503903548

Our Rating

Reviewed by

Jo
Our Review
PROMISE ME YOU pulled at my heartstrings. Mackenzie is a strong woman who has had a lot of heartache in her life but remains true to herself. She gave up the life she knew with Hunter and his band when she found out she was going blind, just as her mother had. She suffers through many emotions as she tries to deal with the adjustments in her life, and when Hunter reenters the picture she feels her heart breaking again. She's loved him from afar for many years. Even though others around her knew her feelings, she's never let on to him. Like most men, he was clueless. What happens if her feelings are returned?  
The story involves a second chance at love as well as friends who become more. The characters had a depth to them as we learn about them a little at a time. I couldn't warm to Hunter's band members because they felt entitled. I could feel the weight borne by Hunter in trying to take care of everyone, but his band members don't feel the same need. Mackenzie's Seeing Eye dog played a major role throughout the story. Brody, Hunter's cousin who is more like a brother, is also the agent for both Hunter's band and Mackenzie, and he was interwoven throughout both personally and professionally. Brody and Savannah's daughter was a cutie and wise beyond her years. I loved her tea parties!
The story is populated with family and friends and is an emotional journey for everyone involved. The book was a quick read and had me turning the pages to see what would happen next. There is some closure, especially with the epilogue which takes place three months later.
This is the first book in the NASHVILLE HEIGHTS series, and I can't wait to return for more. I've enjoyed books by Ms. Adair before and look forward to reading more of her books, not just in this series.