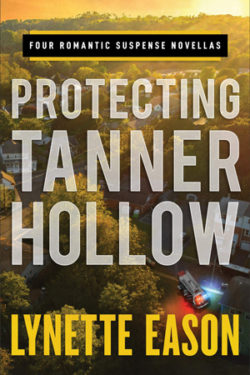 Author

Lynette Eason

Release Date

November 5, 2019

Publisher

Revell

ISBN/ASIN

9780800736460

Our Rating

Reviewed by
Our Review
PROTECTING TANNER HOLLOW contains four romantic suspense novellas that are a great read. All four stories take place in the town of Tanner Hollow, which I really liked. I felt I got to know the town and characters well because they were located in the same place.
Story #1 – LETHAL HOMECOMING centers on a young woman who is returning home after being gone for several years and realizes upon her return that her life is being threatened.
Story #2 – LETHAL CONSPIRACY is about a woman who runs to Tanner Hollow to hide after witnessing a murder. However, it appears she has been followed, and she might be the next victim.
Story #3 – LETHAL SECRETS brings the heroine's family of five children to Tanner Hollow to keep them safe after realizing she is being targeted by someone who wants her dead.
Story #4 – LETHAL AGENDA is a bout a young woman who survived a home invasion but whose life is still in danger.  
I thoroughly enjoyed reading each of these stories and found this book to be a great read. I look forward to seeing what Lynette Eason does next.
Recommended Read