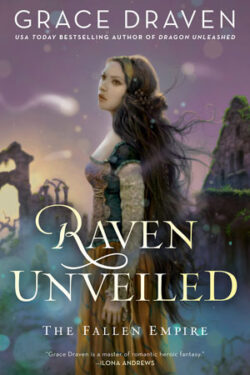 Author

Grace Draven

Release Date

November 8, 2022

Publisher

Berkley Publishing Group, Ace

ISBN/ASIN

9780451489791

Our Rating

Reviewed by

Raonaid
Our Review
Gharek of Cabast is The Spider of Empire's cat's paw, a henchman who dutifully fulfills his mistress's every malicious demand. He is a wanted man now that the Empress is dead. Gharek hunts for the one woman he feels betrayed both him and his daughter. He finds Siora, but he also stumbles across something much more malevolent than his former employer. Gharek and Siora become unlikely allies to not only evade the evil creature but to retrieve a certain magical artifact. Can Gharek learn to let go of his need for vengeance? Or will he lose far more than what he bargained for?
Siora is a shade speaker, a person with the ability to see and to communicate with ghosts. She is the former nursemaid to Gharek's young daughter. She tries desperately to outrun her previous employer, but she notices something sinister is devouring ghosts. Now its attention focuses right on Gharek and certain other living beings. To safeguard him and the dead, Siora offers to help Gharek retrieve a certain magical relic. She cannot ignore the hold the cat's paw has on her. Will Siora embrace her full potential? Can she defeat the evil entity bent on destroying the world?
I am so pleased that Gharek got redeemed. He deserves it! The past two books show Gharek is not inherently evil, just a desperate man forced to do unforgivable acts to insure his daughter's well-being and protection. I admire Gharek for never once forgetting the atrocities he has committed. He does not fault his victims nor their families for their hatred of him. Gharek also believes he does not deserve forgiveness or redemption. What I adore the most about Gharek is his parental love towards his daughter. He knows how the world, with its ugliness and cruelty, would treat her because of her deformity. Gharek wants nothing more than to shield Estred from all that negativity.
Siora is a woman who believes in doing the right thing despite the consequences and her circumstances. I kind of sensed there may have been something brewing between her and Gharek in the previous book. I have no objections because I feel they counterbalance each other nicely. I adore how Siora interacted with Estred. She did not see a deformed child but a delightful girl full of innocence and curiosity. Siora loved Estred as if the girl were her own. What I admire the most about Siora is how she saw the man beneath the mantle of cat's paw. Siora may not have approved of his methods, but she understood what drove Gharek to do the things he had done.
RAVEN UNVEILED is the third book in Grace Draven's fantasy romance series, FALLEN EMPIRE. I would not recommend reading this book before the previous two. The first novel sets up the author's fascinating world and its outlook on magic and politics. This story takes place during the aftermath of all that transpired from the prior novels. There were some events I had forgotten, but the author does a wonderful job of refreshing the important events.
I adore how Malachus, Halani, and the free traders from DRAGON UNLEASHED, book two, play a significant role. It was wonderful revisiting with them again. I also like that the author did not neglect Gilene and Azarion, the couple from PHOENIX UNBOUND. They may not have made an appearance in the story, but they are loosely referred to.
RAVEN UNVEILED is an epic fantasy enemies-to-lovers tale of forgiveness, acceptance, and redemption. Grace Draven has this knack of appeasing my high fantasy needs. I cannot get enough of this series! I hope this is not the last adventure in the collapsing Krael Empire.
A recommended read.