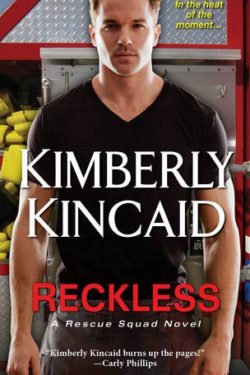 Author

Kimberly Kincaid

Release Date

January 26, 2016

Publisher

Zebra/Kensington

ISBN/ASIN

978-1420137736

Our Rating

Reviewed by

Diana S
Our Review
Zoe Westin is a fire captain's daughter who has come back to Fairview, Virginia, after becoming a chef, to run a soup kitchen in a sketchy part of town. She knows her father doesn't like what she is doing but she will give it her all to prove she can make a success of it.
Alex Donovan is one of Captain Westin's firemen who is always getting into trouble by being too gung-ho and not following the rules. When he butts heads literally with an opposing house's captain, Alex is given four weeks suspension without pay and four weeks of community service. Alex is sent to work at Zoe's kitchen and they immediately lock horns over what his duties are to be. Zoe has a stubborn streak and won't give an inch to a careless firefighter.
RECKLESS tells the full story of firemen and the rules they are governed by. Total explanations of soup kitchen regulations are also explained in this story. As Zoe and Alex learn more about each other and their responsibilities to each other, the story leads to a romance that isn't good for either player. Zoe has a father who risks his life as a fireman and she knows she can't form a relationship with a man who does the same. Alex has always had a role model in Zoe's dad and knows he is not good enough for her.
As the story progresses and more of the fireman are drawn into volunteering at the soup kitchen, things start to heat up in the kitchen. Knowing their relationship isn't wise doesn't keep Zoe and Alex from wanting to be together.
KIMBERLY KINCAID writes contemporary romance that delves deep into the sexual attraction but also shows the sweet side of love. I enjoyed learning the behind the scenes life of a fireman fighting a fire, as well as knowing everyone is watching each other's backs and will be there if needed.  RECKLESS is the debut novel for a new series titled RESCUE SQUAD. I am sure there will be more great stories to come about firemen and their dangerous job.